Welcome to the Adopt-a-Bikeway and Bicycle Hazard Reporting Center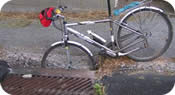 The adopt-a-bikeway program is a partnership between FC Bikes and the Streets Department and was designed to encourage bicyclists in Fort Collins to report hazardous conditions along their favorite bikeway.
By signing up for the Adopt-a-Bikeway program, you pledge to report hazardous conditions along your preferred Bikeway Route. Your route can include streets with bike lanes and bike trails. Hazardous conditions include: High amounts of debris, such as drag out or cinders, broken glass, potholes, cars parked in bike lane, fallen limbs, or, slippery paint.