Spring Canyon Community Park
Karl Ciesluk, Ken Davis, and Barry Quinton Lee
Located on West Horsetooth and Overland Trail
Within Fort Collins? newly opened Spring Canyon Community Park, are five Art in Public Places projects designed and executed by three artists working with the Parks Planning and Development department.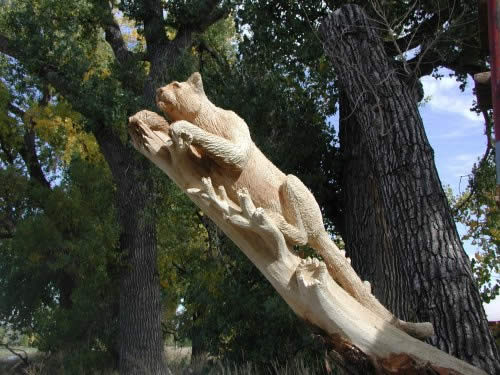 Artist: Ken Davis
At the Northwest edge of the park, Montrose Colorado chainsaw sculptor, Ken Davis, has turned cottonwood tree stumps into wild animals. In "Mama's Watching," a mother mountain lion crouches on an overhanging branch, hunting for food for her two kittens, waiting in the tree next to her.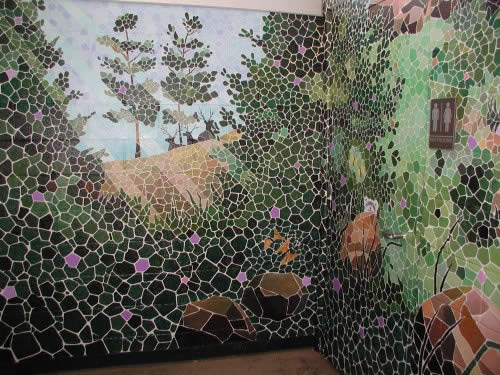 Artist: Barry Quinton Lee
In the family restroom, near the playground, local painter, Barry Quinton Lee, has painted a scene from the local foothills. In the mural, "Nature's Calling," Lee used his mosaic pointillism technique, where he created rocks, trees, and animals with thousands of "mosaic pieces" of painted colors.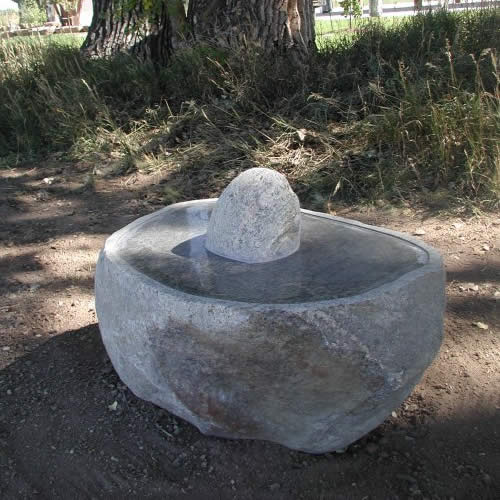 Artist: Karl Ciesluk
Along pathways in the park are stone sculptures hand carved by Karl Ciesluk. "Celebration of Growth" represents seed pods as time capsules awaiting the right conditions to flourish - a symbol of renewal and growth.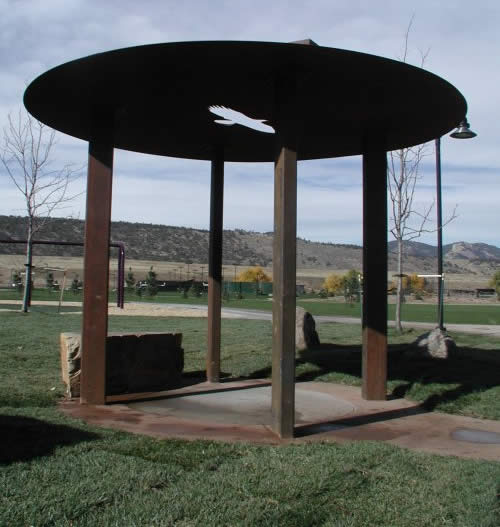 Artist: Karl Ciesluk
The steel shelter near the playground has been created by Canadian artist, Karl Ciesluk. "Soaring," is a solar sculpture that uses the sun to project an image of an eagle onto the ground below it.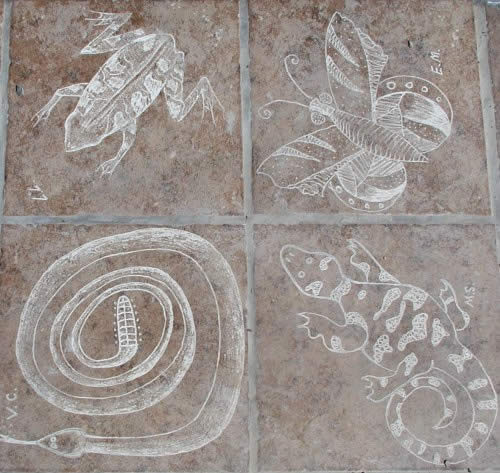 Artist: Karl Ciesluk
On the bridge at the Northwest edge of the park, stone tiles engraved by Karl Ciesluk have been placed. "Source of Life" features pictures of animals, drawn by students of Olander Elementary School.