2006 Transformer Cabinet Mural Projects
To mitigate graffiti on electrical transformer cabinets in the downtown area, local artists have been commissioned to paint their designs on cabinets in Old Town.
Transformer Cabinets at Tenney Alley
"Organic Energy"
By Amelia Caruso
2006
Tenney Alley between West Mountain Avenue and the Mason Street Parking Structure
The Transformer Cabinet project enhances the wonderful transformation of Tenney Alley from a service route to a friendly pedestrian experience, connecting Mountain Avenue businesses to the Mason Street Parking Structure. The goal of the project is to mitigate the graffiti in the existing structures and to make them artful objects within the site. The transformer boxes have a graffiti proof clear coat to protect them. The mural patterns, painted by artist Amelia Caruso, are inspired by several different artistic views; Australian Aboriginal dot patterns, Mandelbrot Fractals and the concept of visualizing the flow of negative space are all part of this design. In addition to tying in the colors already in use in the alley, the artist envisioned the central vein in the design as being a reference to the Poudre River. The flow of the pattern from or to the "headwaters" or the flow of the negative spaces within the pattern will be continuous to the viewer when either coming or going in the alley.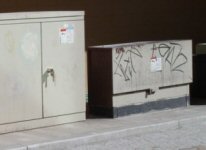 Tenney Alley Transformer Cabinets full of graffiti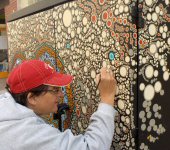 Artist Amelia Caruso at work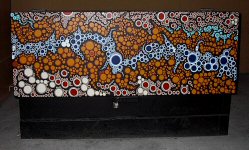 Painted Transformer Cabinet