2016 Transformer Cabinet Mural Projects
In its eleventh year the Transformer Cabinet Mural Project had 15 artists and 3 non-profit groups paint bright, active murals on Fort Collins transformer cabinets as a graffiti abatement program that brings art into the community. Fort Collins Art in Public Places Program and Utilities Light and Power collaborate on this project that has enjoyed great success in lowering maintenance costs. By employing Fort Collins artists to paint the murals, the program also keeps the investment local.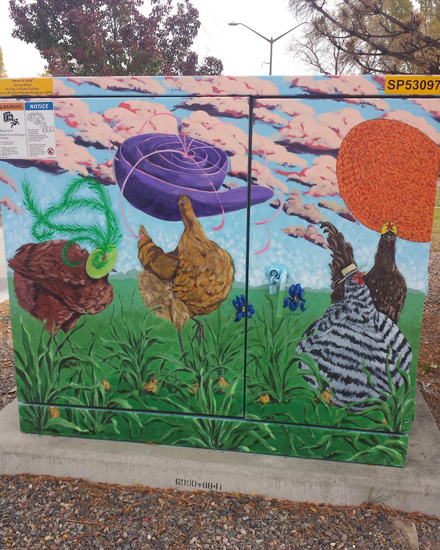 Artist: Jenna Allen
Location: 2600 S. College Ave.
Hens in Hats is a playful homage to Fort Collins new favorite backyard animal. The design celebrates the unique personalities of each of our feathered ladies by imaging them as Kentucky Derby high societythe bigger the hat, the bigger the personality. Accompanying the hens are chicks with tiny hatslittle ladies-in-trainingand patches of elegant irises.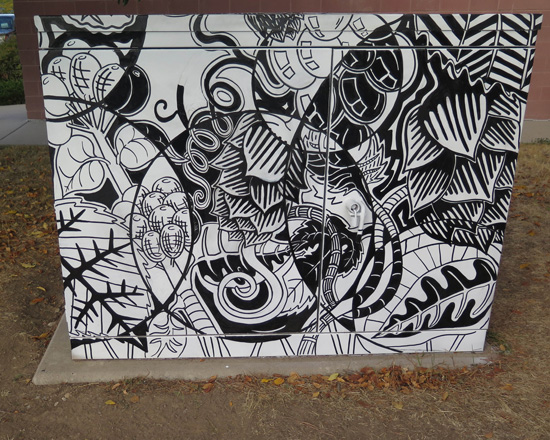 Artist: Chris Bates
Location: 3636 Manhattan Ave.
Grapes, Hops and Coffee provide so many of us of the life blood of our mornings and evenings. Instead of showing the means of production or end result, Chris Bates focused on the plants themselves.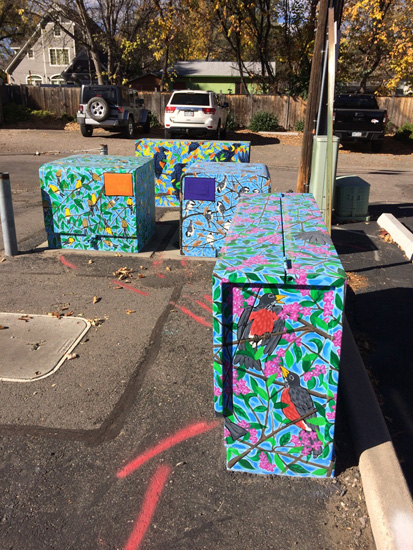 Artist: Ren Burke
Location: 419 W. Mountain Ave. (4 cabinets)
The Four Seasons Crabapple shows the seasons through the life of a crabapple tree. Each cabinet features a distinct seasonal change undergone by this recognizable local tree. Indigenous birds that depend on the shelter and fruit from the crabapple are also shown, with a different species corresponding to each season; Spring: Robins, Summer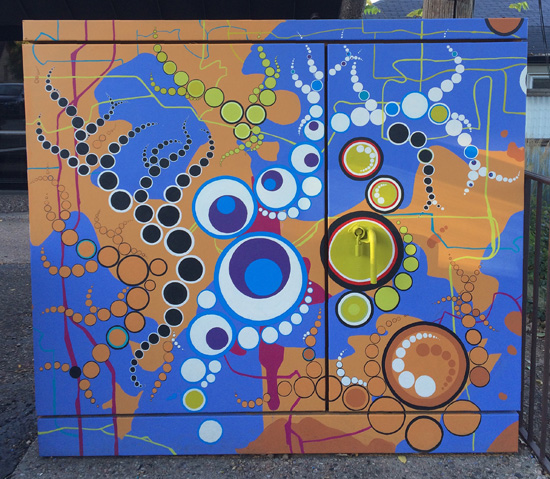 Artist: Amelia Caruso
Location: 215 W. Magnolia
Globe Lighting brings big vibrant color to the space that is a little bit of a darker area, with muted colors of the building at 215 W Magnolia and the parking area.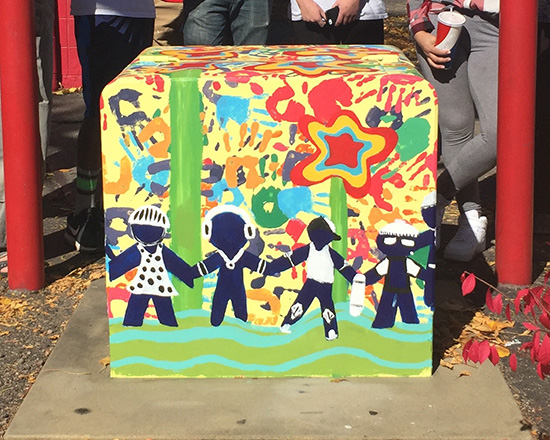 Artist: Center for Family Outreach
Location: 2901 S. College Ave.
It Takes a Village Together is meant to communicate the idea that youth are important to community and that they can have a colorful and positive presence if they are given the chance. The handprints are to symbolize that everyone has individual differences, while the paper chain people are to show that, on a larger scale, we are all one people.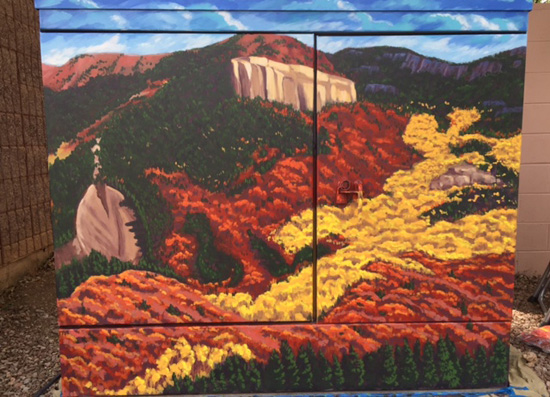 Artist: Cynthia Danielle
Location: 2110 W. Elizabeth St.
Inspiration for Fall in the Rockies came from an airplane ride. The artist sat next to a young man who talked about being from Alaska and moving to Southern Colorado. Photos of Alaskan fall mountain colors became the artists inspiration for the mural.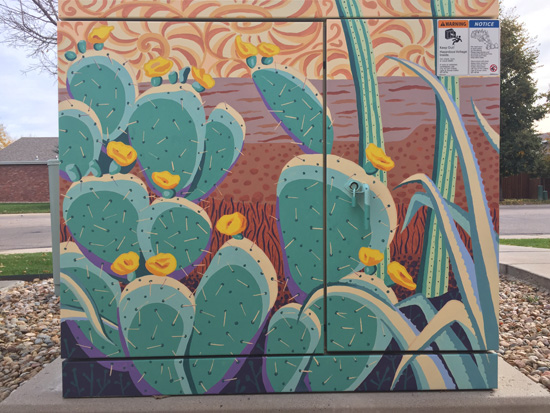 Artist: Alison Dickson
Location: 1015 Horsetooth Rd.
Oro Valley, just north of Tucson, Arizona, has an impressive variety of cacti. Oro Valley Cactus grow together in many sizes and shapes against the colorful desert backdrop.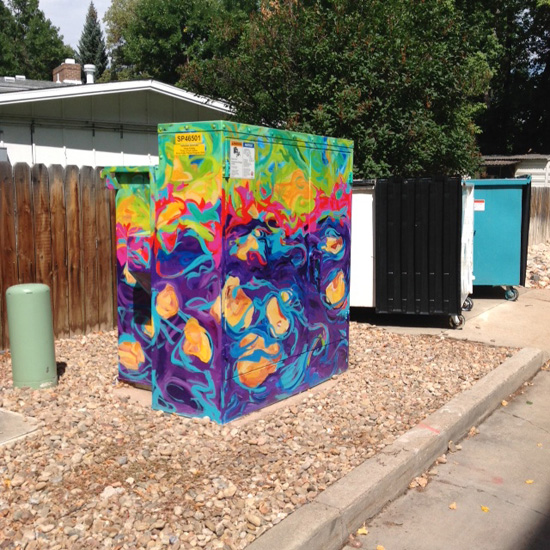 Artist: Diane Findley
Location: 419 Canyon Ave.
VERDANT ZEPHYRS sooth the western skies.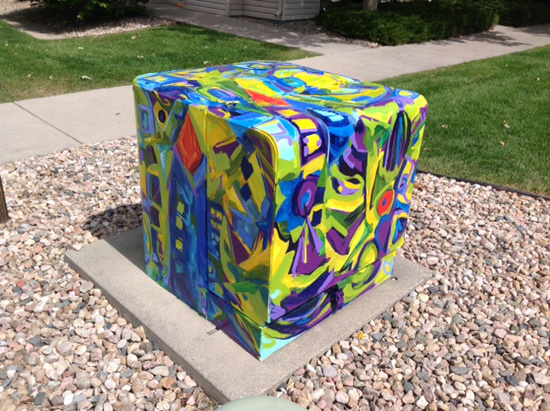 Artist: Diane Findley
Location: 1120 City Park Ave.
An unexpected moment of bright red alerts us to the element of danger. It says be careful there. SAFETY FIRST
Artist: Diane Findley
Location: 702 City Park Ave.
The Lillian Marie is inspired by a landscape theme.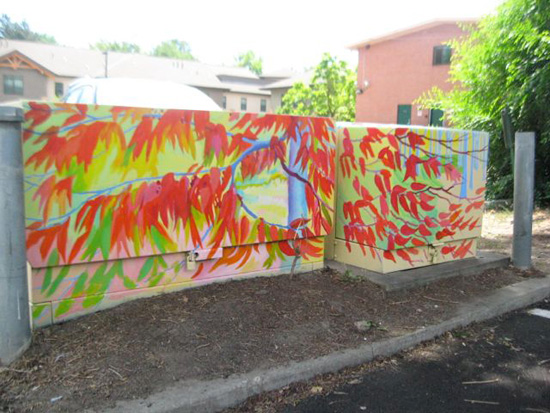 Artist: Susannah Franklin
Location: 412 W. Laurel St. / 638 S. Sherwood St. (2 cabinets)
No Boundaries is inspired by the amazing visual effects of trees in the sunlight. Susannah Franklin attempts to rely less on outlines and delineating each shape, and instead focuses on the color and light patterns of leaves in sunlight. This pattern and color scheme transition to the next mural design Momentum. In the mural design for Momentum the artist again focused on producing a piece that highlighted color.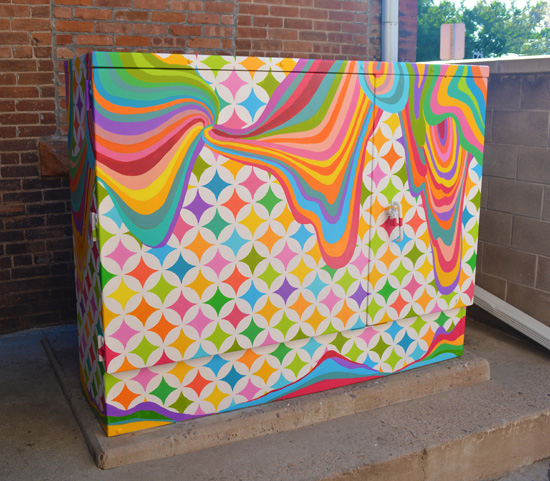 Artist: Jennifer Ivanovic
Location: 200 Walnut St.
Comets are ancient bodies of frozen ice and StarDust that formed beyond the orbit of the most distant planet and contain materials that were the ancient building blocks of the solar system. A colorful, star-like pattern wraps the transformer painted with a laser cut stencil. A striped, melting cosmic goo pours over the box with an obvious gravitational pull. Or, its just a nice colorful pattern with the artists signaure simulated poured pattern. Either way, StarDust is a unique visual treat.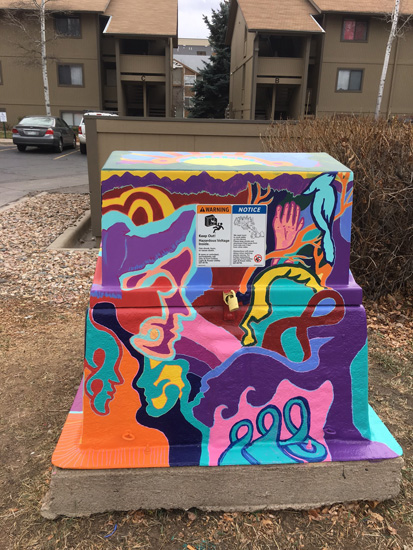 Artist: Northern Colorado AIDS Project
Location: 710 City Park Ave.
Northern Colorado AIDS Project design centers around the visual representations of stigma reduction. Our current image shows the profiles of several people as well as outstretched hands, hands holding one another, and a fist raised in empowerment. The abstraction and many colors of this image is representative of the diversity of our community, both in Northern Colorado and in the movement to support those affected by HIV/AIDS throughout the world.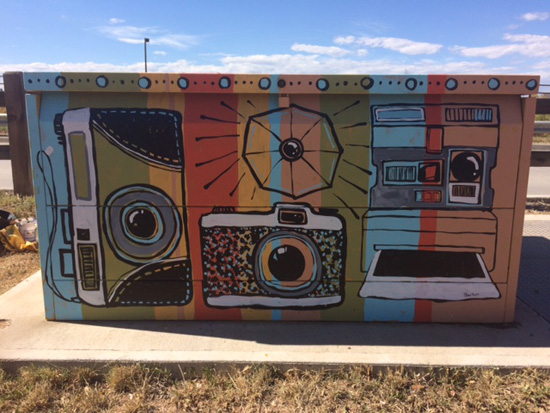 Artist: Teddi Parker
Location: 2211 S. College Ave.
In Retro Nostalgia, colors from the 1950s are behind outlined images of nostalgic items by genre. Artist, Teddi Parker, wants people to see the items and think, Man, I used to have one of those! Genres include; music, photography, communication, and film.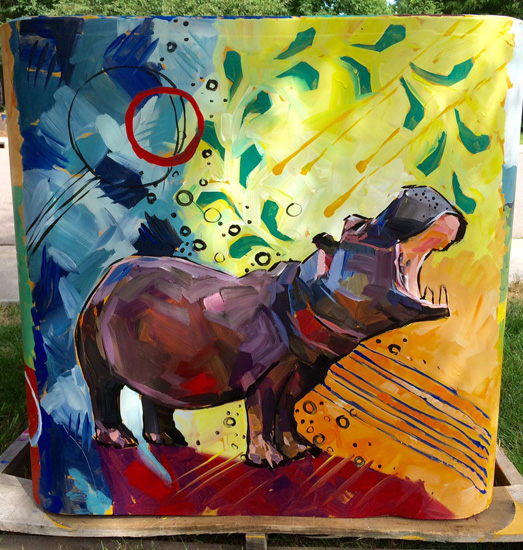 Artist: Teddi Parker
Location: To Be Determined
In Animal Games, Teddi Parker played with the idea of realistic zoo animals out of their element and into wild color combinations and patterns.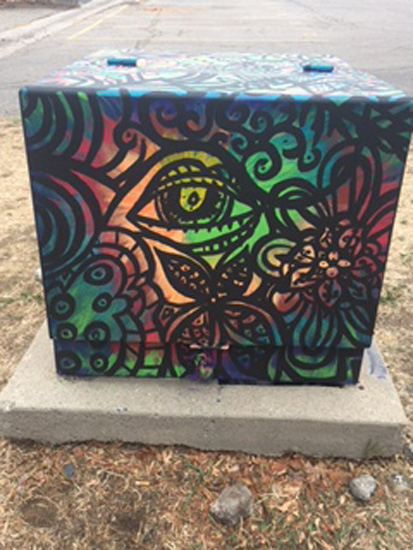 Artist: Poudre Community Academy
Location: 708 City Park Ave.
Instructor Kirstan Chalfant worked with Poudre Academys 2015-2016 CommUnity Art class to create this cabinet mural based on the theme of Community and Art Experimentation. They began drawing a Zentangle design with black sharpie, focusing on lines, shapes and random objects to create an abstract image with different colorful backgrounds.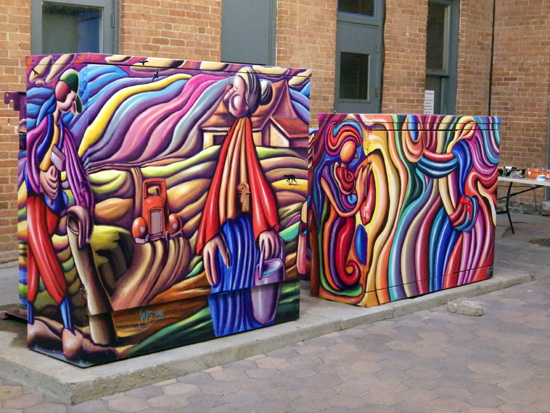 Artist: Werner Schreiber
Location: Old Town Square, Behind Little Bird (2 cabinets)
Rolling Land (south cabinet) is a surreal landscape design of rolling hills and people depicted in a contemporary style. Waves of Figurines (north cabinet) is a modern concept of figurines. Their shapes create an interesting effect, and are uniquely blended with the background.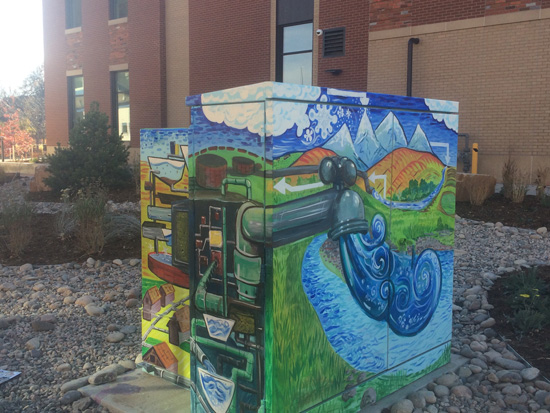 Artist: Stan Scott
Location: 222 Laporte Ave.
A Fluid Process focuses on the water cycle in Colorado and Fort Collinsfrom snowmelt being channeled to Horsetooth Reservoir, to water treatment for public use, and then treated water being returned to the Cache La Poudre River. The design aims to show that everything is connected from a healthy riparian ecosystem to a bio swale and storm water catchment to the complexity of the water treatment process.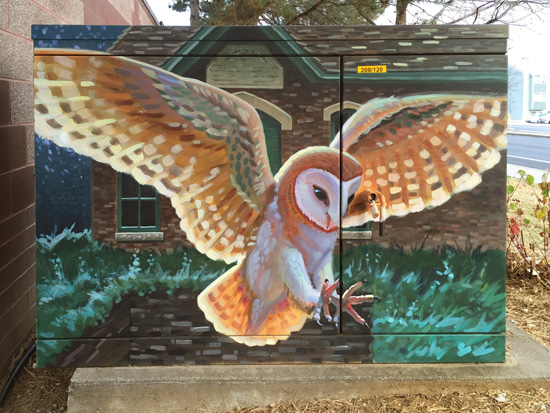 Artist: Larry Tucci
Location: 1113 Davidson Dr.
In Barn Owls at Fort Collins Water Works, the early American architecture of the Water Works complex has the same qualities of the barn owls: handsome, classic, timeless. These birds could easily be living there today exactly as they could have when the Water Works was first constructed. They serve as a reminder of the past and those who worked hard to improve life for themselves and future generations.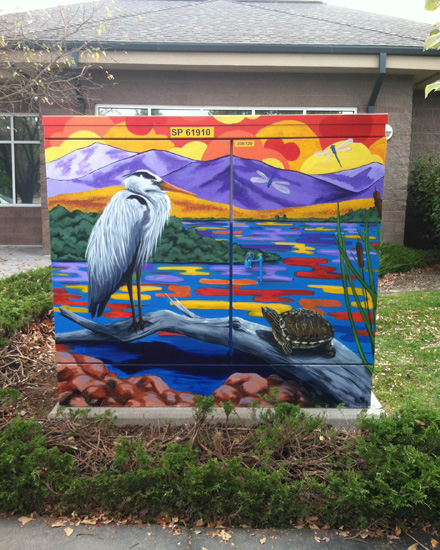 Artist: Shawna Turner
Location: 4733 Delany Dr.
This design was inspired by the wonderful natural pond areas of Fort Collins and their various wildlifeplaces where the majestic Great Blue Heron are often seen.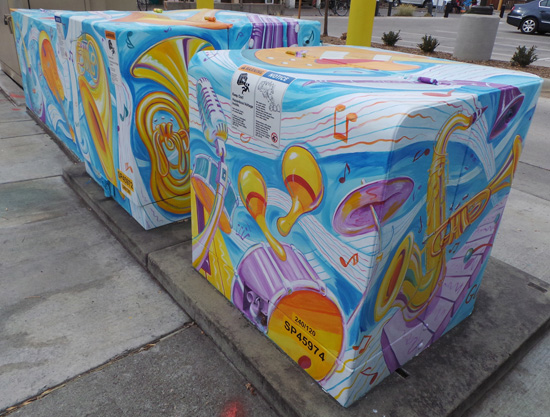 Artist: Gale Whitman
Location: 118 W. Laurel St.
Gale chose the theme of Music Boxes because of the close proximity to the Music District and to a local radio station. Her palette conveys excitement and positive energy. Flowing throughout the cabinets are bars of music, notes and other musical symbols indicating the collaborative nature of music. The east cabinet mural features instruments used in Jazz and Rock & Roll music. The center cabinet showcases concert band and classical music instruments. The west cabinet is all about Bluegrass and acoustic instruments.