2015 Transformer Cabinet Mural Projects
In its tenth year the Transformer Cabinet Mural Project had 16 artists and 1 non-profit group painted bright, active murals on Fort Collins transformer cabinets as a graffiti abatement program that brings art into the community. Fort Collins Art in Public Places Program and Utilities Light and Power collaborate on this project that has enjoyed great success in lowering maintenance costs. By employing Fort Collins artists to paint the murals, the program also keeps the investment local.
Artist: Amanda Acheson
Location: Bay Rd, north of Drake, SE of CSU Veterinary Hospital, across the street from the Mason Trail.
Amanda Acheson loves light. She loves how light drapes across objects giving them dimension. With "Pedal Past," she shows the light draping across old cruiser bicycles and allows the viewer to see the whole bike, simply by seeing the shadow. She wants the light to illuminate their beauty and the shadows to show how graceful they were when they were new.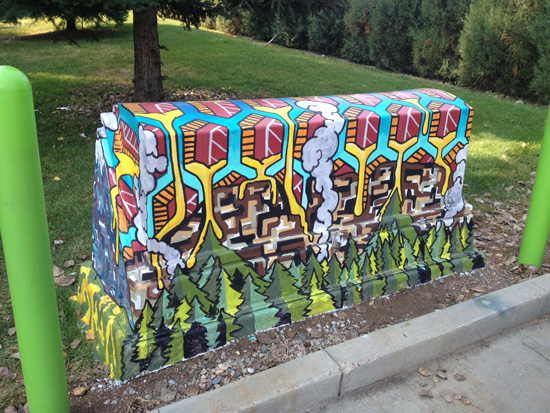 Artist: Chris Bates
Location: 1305 W. Elizabeth St.
"Oro Aura" shows a honeycomb sky with honey dripping over Horsetooth Rock and the mountains.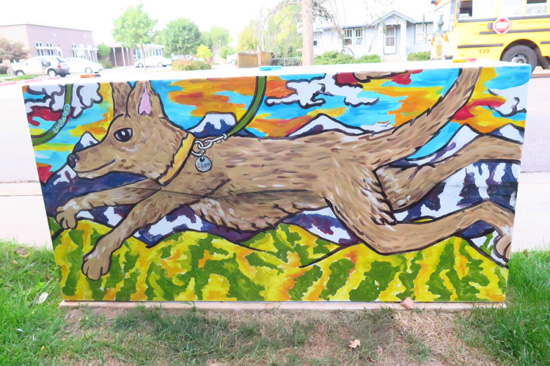 Artist: Chris Bates
Location: 1601 Sheely Dr
"Heal Tow" shows a stylized hiker and his dog.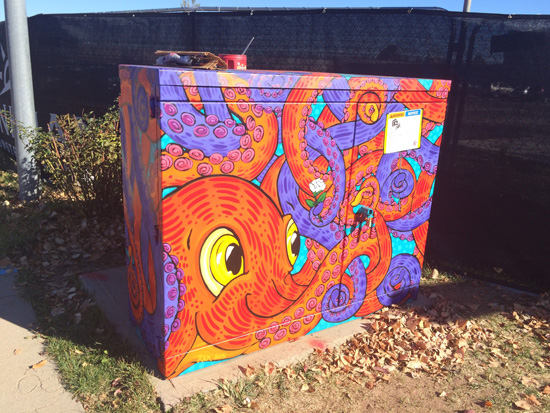 Artist: Ren Burke
Location: 170 Kensington Drive
The design of "Octo-Tangle" features two cartoon-y octopuses and all sixteen of their tentacles twisting and weaving around the cabinet. The tentacles may be holding something, such as a utility warning sign, identification sticker, or even a rose pulled from the real rose bush growing near the cabinet.
Artist: Amelia Caruso
Location: To Be Determined
Similar to earlier transformer cabinet murals by Amelia Caruso, "Locust Leaves" takes visual cues from Australian aboriginal dot patterns, Mandelbrot sets, fractals, satellite photos and an interest in the flow of negative space. For this design, contrasting tree leaves overlay the dots.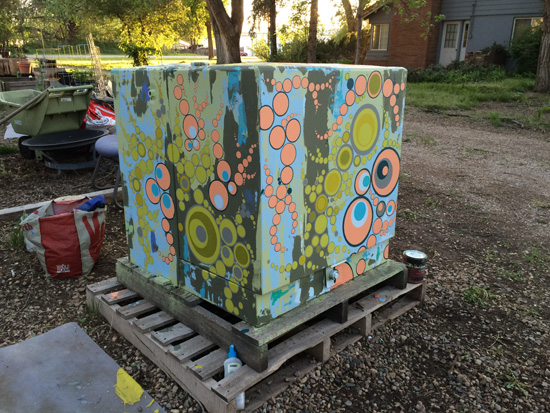 Artist: Amelia Caruso
Location: To Be Determined
Similar to earlier transformer cabinet murals by Amelia Caruso, "Quasi-biennial oscillation" takes visual cues from Australian aboriginal dot patterns, Mandelbrot sets, fractals, satellite photos and an interest in the flow of negative space. This design is an attempt to layer colors and dots to show depth and texture.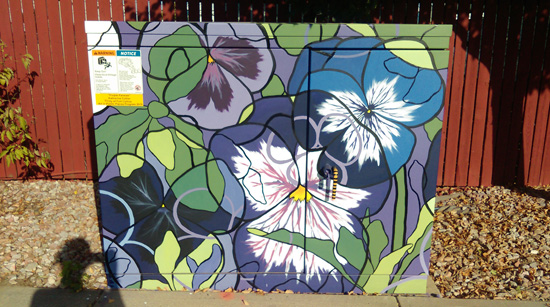 Artist: Katherine Collier
Location: 1314 Red Cedar Cir.
For "Purple Pansies," Katherine drew inspiration from the beautiful spring flowers around Colorado. This mural features pansies, with their velvety texture and bright colors.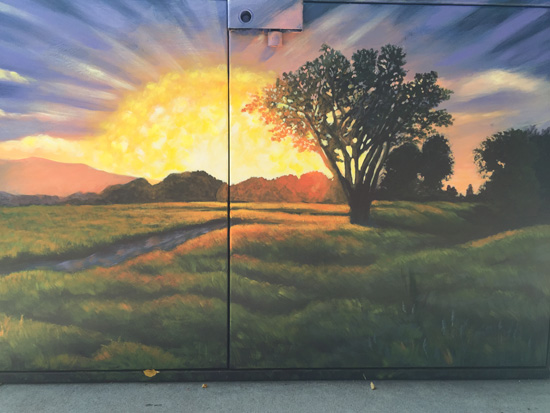 Artist: Cynthia Danielle
Location: 300 Howes St.
"Colorado Sky Shows" depicts the wondrous and amazingly beautiful skies we are blessed to see here in Colorado. Remember to always look up and enjoy the beauty.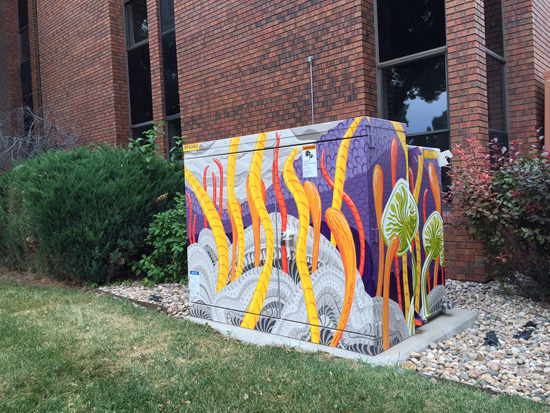 Artist: Alison Dickson
Location: 2850 McCelland Dr.
Alison Dickson calls her design "Chihulical!" She was inspired by the Chihuly exhibit at the Denver Botanic Gardens in the fall of 2014. The glass creations were so vibrant and bright against the dull, wintry landscape. Alison wanted to capture that image in her mural.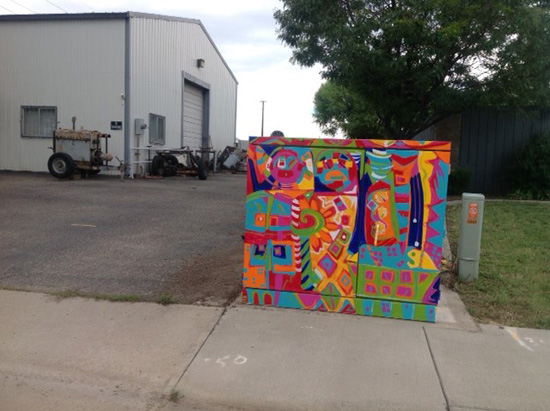 Artist: Diane Findley
Location: 1232 Red Cedar Cir.
"Coloricity" contains playful mechanisms of an electrical substation to catch your eye and cheer you on your way.
Artist: Diane Findley
Location: 1270 Redwood St.
"Into the Twilight Zone" is a colorful tribute to the powerful workings of our electric utilities. This rendition of an industrial substation presents itself as positively surreal. Add to that the sudden magic of a Technicolor transformer cabinet, and you have stepped into a new dimension.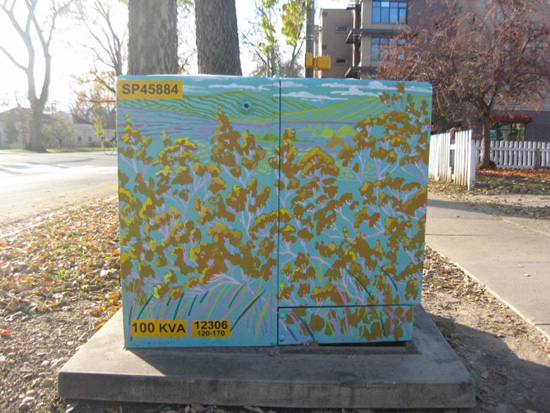 Artist: Susannah Franklin
Location: 230 W. Laurel St.
"Poetry" is inspired by the time the artist set out to observe rabbit brush in the Colorado prairie. She loves the colors of the rabbit brush blossoms and the cool grey blue of sagebrush.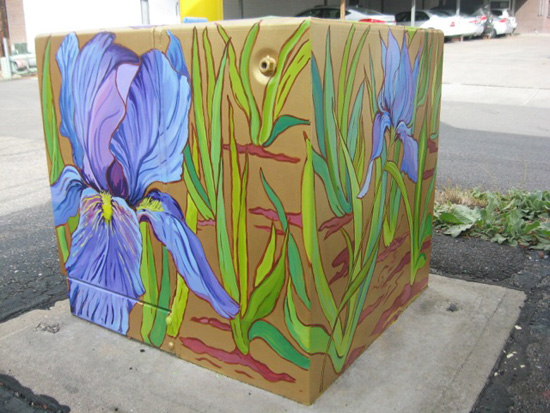 Artist: Susannah Franklin
Location: 400 S Meldrum St.
"Iris" was inspired by Susannah Franklins walks outside in the springtime and her observations of the beautiful colors of irises in the sunlight.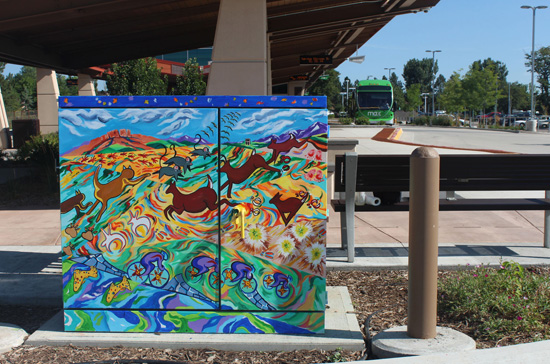 Artist: Mary Harnett
Location: South Transit Center, 4915 Fossil Blvd.
"On the Move" is the theme for this transformer cabinet mural located at the South Transit Center. The mural design depicts how riders on the bus are on the move as are the local urban dwelling creatures.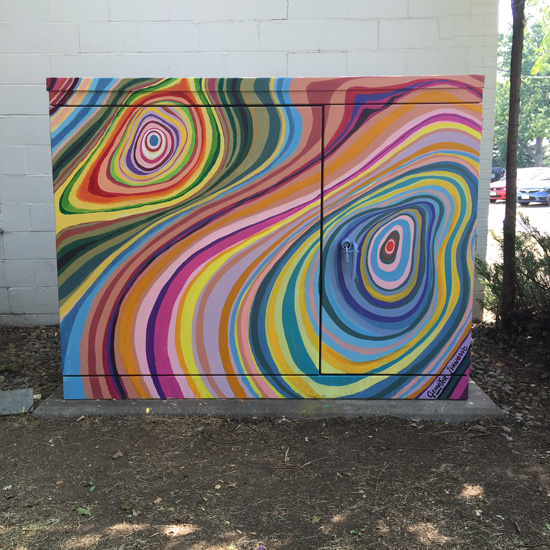 Artist: Jennifer Ivanovic
Location: 1002 S. College
"Spectacular Pour" simulates Jenifer Ivanovics "painted pours" technique that she often uses in her work. In her painted pours, the "wet pours" of thick paint have smooth transitions and when "dry," theyre beautifully broken.
Artist: Kirsten Savage
Location: 3509 S. Mason
"Larger than Life" looks like a colorful bug collection of beetles and butterflies. Each insect is painted to look like it has been pinned to a burlap background and hovers above it, neatly organized like a scientific study.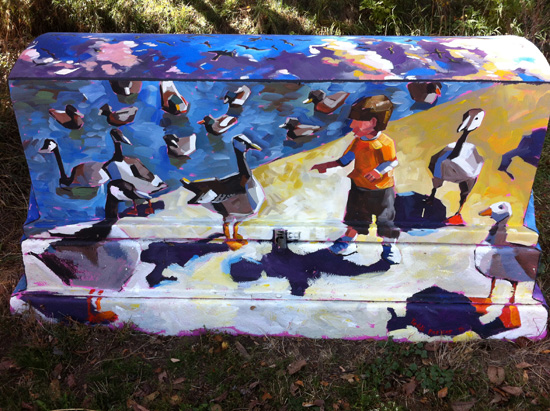 Artist: Teddi Parker
Location: Bryan and Oak, along the irrigation canal
The inspiration for "Feeding the Ducks" came from one of Teddi Parkers little art students. She asked them what kinds of activities one could do in City Park and the student said feed the ducks. She thought that was too cute and immediately started sketching.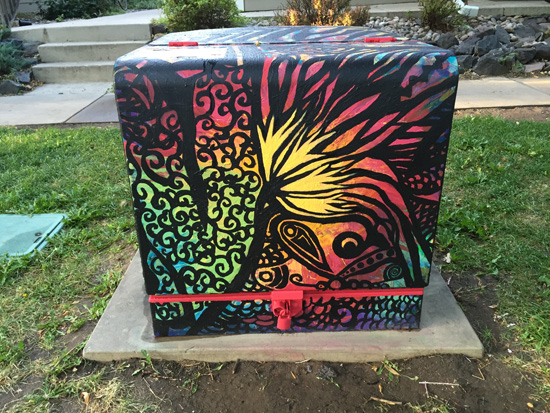 Artist: Poudre Community Academy
Location: 223 W. Myrtle
Instructor Kirstan Chalfant worked with Poudre Community Academys 20142015 CommUnity Art Class to create "Artful Minds." To go along with the theme of CommUnity and Art Experimentation, they decided to do a large Zentagle for their mural design.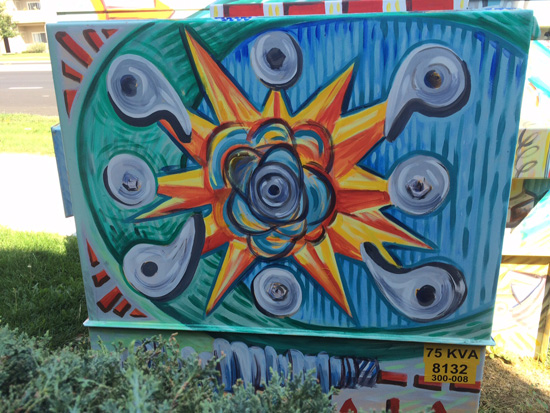 Stanley Scott
Location: 3602 Manhattan Ave.
"The Engine Room" is based on an engine schematic and photographic and some imaginary reference. Carburetors, pistons, valves, and spark plugs are all elements of the design that plays with the implied space and also elements of pattern on the cabinet.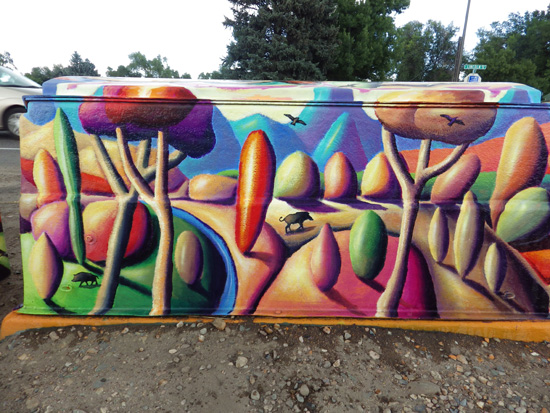 Artist: Werner Schreiber
Location: 103 E. Lincoln Ave
"Wandering" is a landscape motif of colorful, bulging trees, hills, and tree trunks . . . with a little river going through on some sides. There are a few wild boars wandering through the scenery with silhouetted birds hovering in the sky.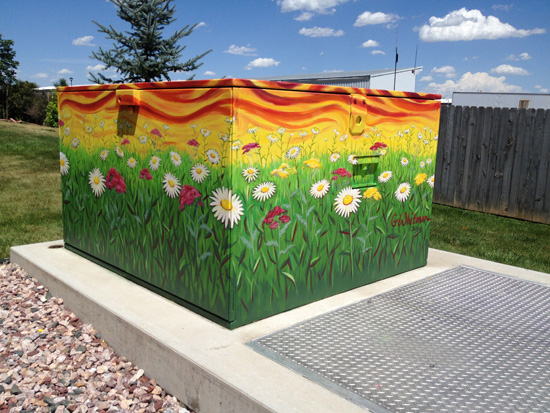 Artist: Gale Whitman
Location: Harmony and the Mason Trail.
"Fields of Daisy and Yarrow" is inspired by the flowerbed in Gale Whitmans front yard. Yellow flowering yarrow with grey-green foliage is interspersed among a field of white daisies with yellow centers and dark green foliage. The top of the cabinet sports a sunset-lit pattern of swirling clouds.
Artist: Gale Whitman
Location: Nix Farm, 1745 Hoffman Mill Rd.
"Changing Seasons" represents one season for each side of the transformer with animals and plants that are present in the area at the different times of the year.