2011 Transformer Cabinet Mural Projects
In its sixth year, the Transformer Cabinet Mural Project had 16 artists painting bright, active murals on Fort Collins utility equipment. As a graffiti abatement program that has the Fort Collins Art in Public Places Program working in cooperation with Utilities Light and Power, the project has enjoyed great success in lowering maintenance costs. By employing Fort Collins artists to paint the murals, the program also keeps the investment local.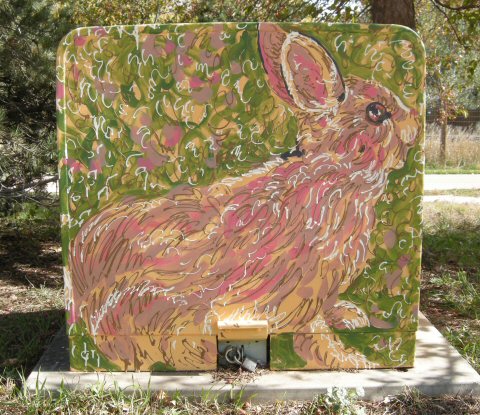 Artist: Lisa Cameron
Location: On Parklake Dr. at Lakeshore Circle, adjacent to the Power Trail
Description: Nesting Neighbors-Wild Hare is the companion mural to Lisas foxes, just down the street. Both wildlife murals are a visual treat for exercisers on the Power Trail.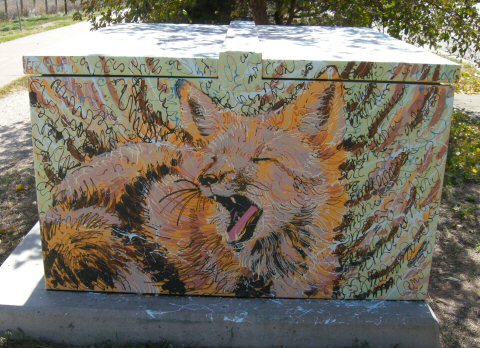 Artist: Lisa Cameron
Location: On Parklake Dr., north of Centennial Rd, adjacent to the Power Trail
Description: With Nesting Neighbors-Fox Den, Lisa portrays the red fox and a black fox in various poses using her engaging pointillist drip-style painting technique.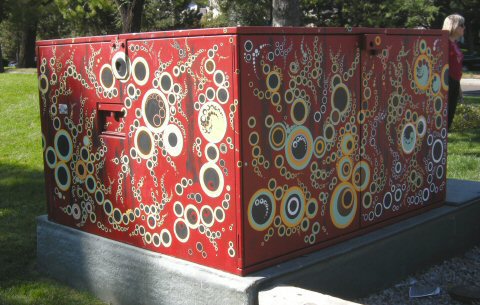 Artist: Amelia Caruso
Location: On the SE corner of Drake and Stover
Description: Amelia is investigating color relationships and visual fluidity with Red Mare Paesaggio, inviting you to explore the beautiful grace and visual chemistry.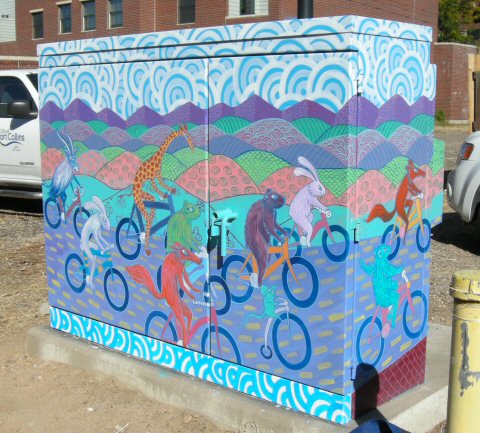 Artist: Michelle Daigle
Location: In the alley behind 345 E. Mountain Ave.
Description: With Fort Colorful, Michelle has created an ode to Fort Collins, featuring a stylized Old Town and multiple animal residents riding in a bike parade.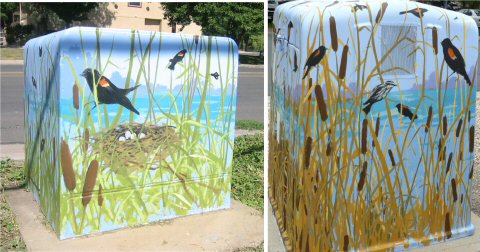 Artist: Nanci Erskine
Location: 2 cabinets just south of Drake on Redwing Rd.
Description: Redwing blackbirds decorate these two cabinets on Redwing Rd. Nesting Season and Ready for Winter portray these local birds flitting about in marshy grass-filled environments.

Artist: Jeannie Essling
Location: In the alley behind 119 Peterson St.
Description: Taking the produce section of the supermarket as her inspiration, Jeannie has arranged fruits and vegetables in colorful patterns on this set of 3 cabinets titled, Healthy Patterns.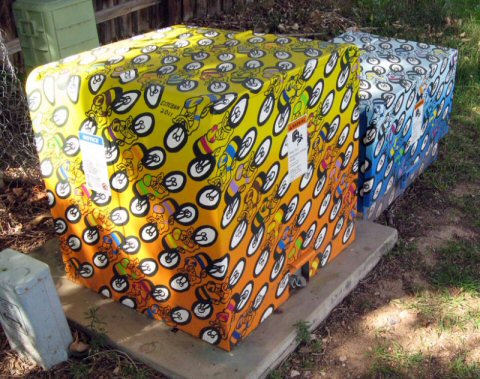 Artist: Francisco Esteban
Location: 4 cabinets along the Mason Trail, between Drake and Swallow
Description: The title, Bikes and More Bikes is an apt description for Franciscos murals. Groups of road bikers ride in tight formation, creating a repeating pattern over a background of color gradation.

Artist: Susannah Franklin
Location: 2 cabinets near the Gardens on Spring Creek, 1 on Centre Ave. and the second, just east on the Spring Creek Trail
Description: Taking advantage of the close proximity to the Gardens on Spring Creek, Susannah used garden bounty as her subject matter in Rosemarys Farm. Goats were included as they are sometimes the beneficiaries of garden overabundance.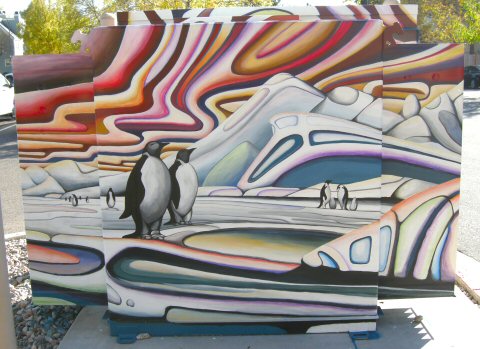 Artist: Ryan Guillaume
Location: In the parking lot behind 1335 W. Elizabeth St.
Description: In Freeman, emperor penguins inhabit a swirling world of snow and ice formations with aurora australis (southern lights) lighting up the sky.
Artist: Barry Quinton Lee
Location: In the parking lot west of 281 N. College
Description: "O' Hana" depicts a Hawaiian paradise with ocean views, swaying palm trees, and other indigenous flora.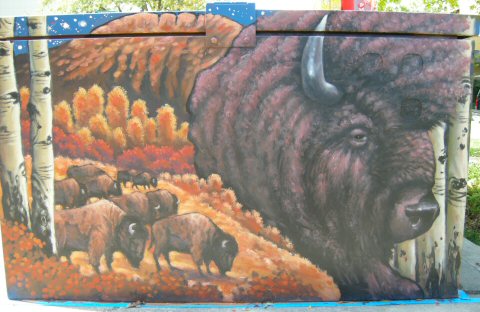 Artist: Terry McNerney
Location: On the NE corner of Howes and Oak Streets
Description: Bear, bison, big-horned sheep, and moose are painted into scenes of their respective habitats that also depict the 4 seasons in Where Are My Dogs?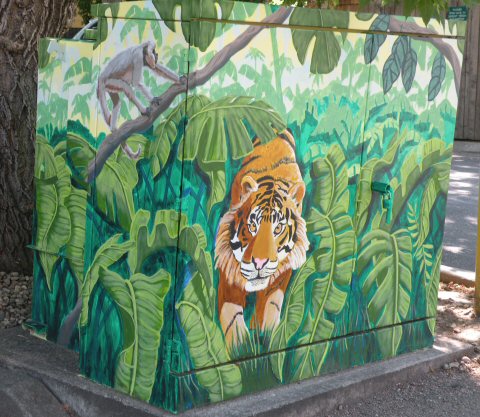 Artist: John Moore
Location: On the west side of 401 W. Mulberry
Description: A tiger emerges from a thick jungle headed right at you in, Crouching Tiger. Walk around the cabinet and you will discover other jungle creatures staying out of the tigers way.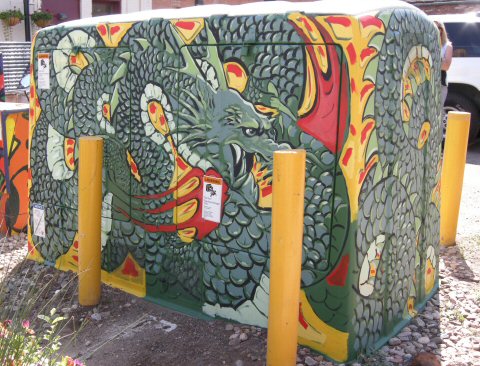 Artist: Blake Neubert
Location: In the Old Firehouse Alley, behind 240 Walnut St.
Description: The cabinet with the Dragon Tattoo pays homage to the iconic tattoo imagery with the mythical reptile writhing all over the cabinet.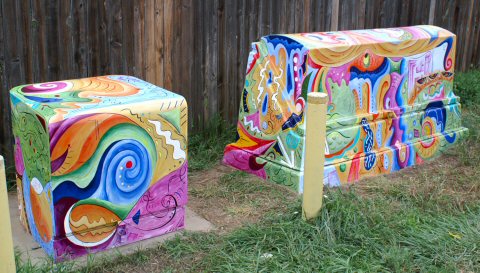 Artist: Juli Schrader
Location: On W LaPorte Ave, just east of the intersection with Taft Hill Rd.
Description: Tapping into her love of color, movement, and pattern, Juli created a wildly colorful abstract composition on her cabinets that she has titled, Transformations.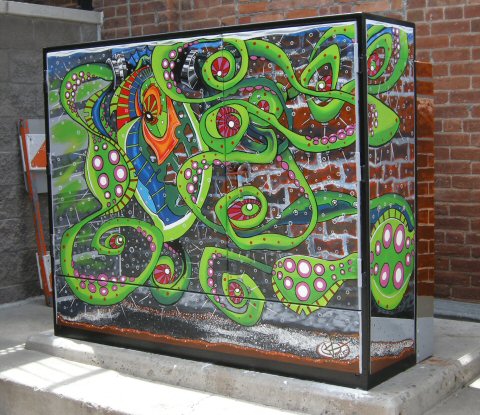 Artist: Keith VanEron
Location: In storage
Description: Floating in a fish tank surrounded by brick and concrete sits an alien octopus ready to astound anybody brave enough to lock eyes with it.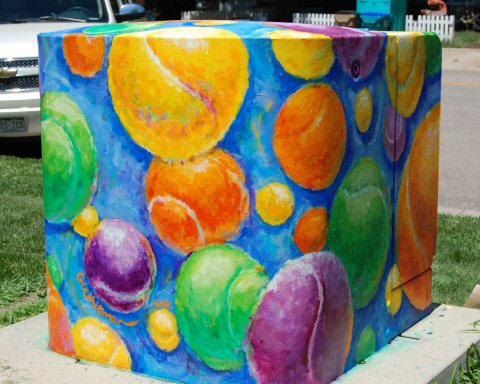 Artist: Gale Whitman
Location: By the tennis courts on the north side of City Park
Description: With Match Point, lots of brightly colored fuzzy tennis balls are bouncing around this cabinet that sits by the tennis courts.
Artist: Gale Whitman
Location: On the south side of the Pottery Studio on the north side of City Park
Description: Saturday in the Park shows families enjoying the many activities available at City Park, such as having a picnic and riding the train.