2010 Transformer Cabinet Mural Projects
In its fifth year, the Transformer Cabinet Mural Project had 17 artists and one non-profit group painting bright, active murals on Fort Collins utility equipment. As a graffiti abatement program that has the Fort Collins Art in Public Places Program working in cooperation with Utilities Light and Power, the project has enjoyed great success in lowering maintenance costs. By employing Fort Collins artists to paint the murals, the program also keeps the investment local.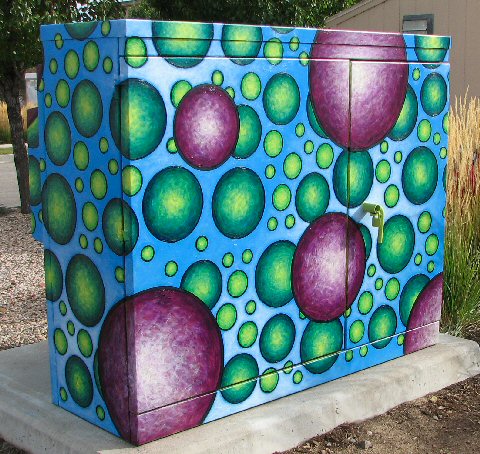 Artist: Michael Allison
Location: One cabinet at 320 College Ave. and two cabinets in front of 223 Willow St.
Description: With brightly colored spherical shapes in "Static," Michael illustrates how electricity is at once static and mobile, simple and complex, large and small. Referencing the electrical activity inside the transformer cabinet, the artist is looking to show how electricity exists within the structure of the universe.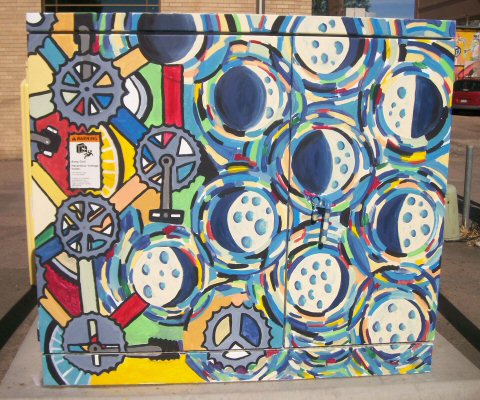 Artist: Chris Bates, 1 of 2
Location: In the alley behind 142 Remington St.
Description: Chris has created a shifting mosaic pattern for "World View." Inspired by M.C. Escher's tessellations and Islamic mosaics, the artist incorporates views of the Earth, bicycle chain rings, and phases of the moon into his complex design.
Artist: Chris Bates, 2 of 2
Location: In the alley behind 221 E. Mountain Ave.
Description: Just up the alley from "World View," Chris has painted "Introspecial." Each side of the cabinet shows a variation on a theme. The viewer looks through something different on each side - a chain link fence, stained glass window, rusted metal, and the mouth of a cave. The "interior" of the murals show different ways of making energy - an electric globe, the inside of a transformer cabinet, a wind farm, and a hand-crank generator.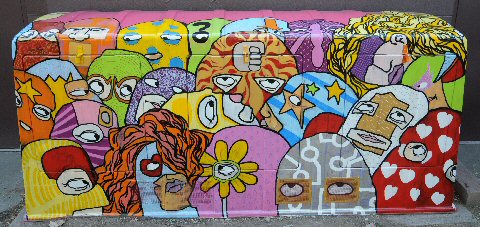 Artist: Rolfe Bautista
Location: In the alley behind the 7-11 at 428 Remington St.
Description: Rolfe has created a cabinet full of colorful "Above Average Heroes" (they're not quite super). The artist hopes the heroes will help keep people safe as they make their way through the alley.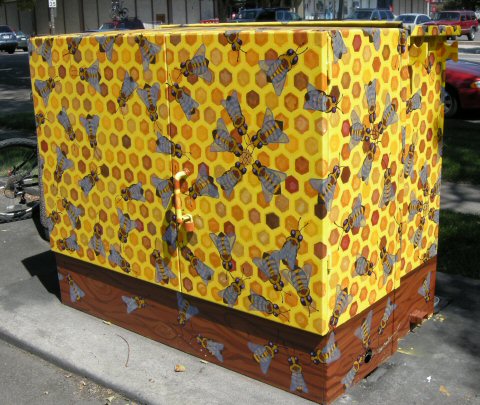 Artist: Ren Burke, 1 of 2
Location: 501 S. College Ave.
Description: With bees crawling all over it, "Apiary" illustrates bees busily tending to their hive. Buzzzzz.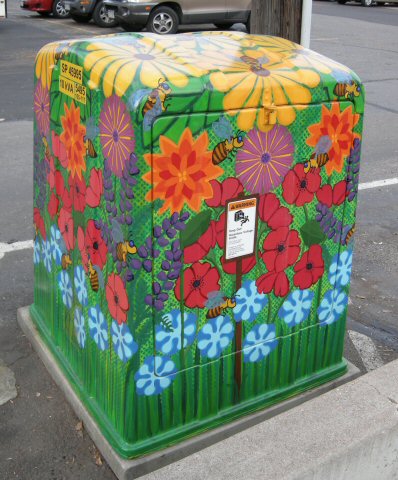 Artist: Ren Burke, 2 of 2
Location: In the parking lot behind 531 S. College Ave.
Description: Across the parking lot to the South of "Apiary," Ren painted "Meadow" as the floral destination for her bees. It features brightly colored flowers with more bees hard at work.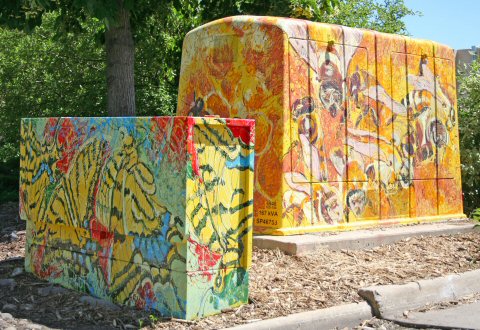 Artist: Lisa Cameron
Location: Southeast corner of Civic Center Park located at Howes and LaPorte.
Description: For this pair of cabinets, Lisa has painted swallowtail butterflies on "Up, Up, and Away," and honey bees on "Busy Bees.
Artist: Lisa Cameron
Location: East of Civic Center Park, visible from Mason St.
Description: "Orange Burst Poppies" are painted on a single cabinet around the corner northeast of Lisa's pair of insect cabinets. The bright red poppy in Greco-Roman mythology is symbolic of a promise of resurrection, used in this case to represent a healthy garden lifecycle. These are insects you will find in Fort Collins gardens.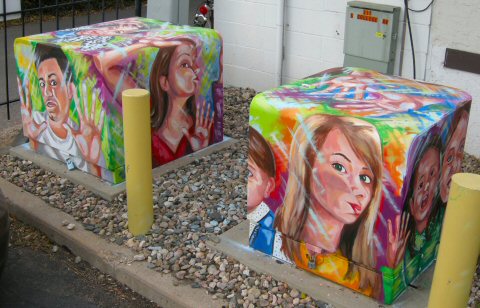 Artist: Coleen Cosner
Location: Behind 311 S. College Ave.
Description: "Squish" illustrates just what it looks like to try and break out of the box. This playful composition is a tour de force of portraiture.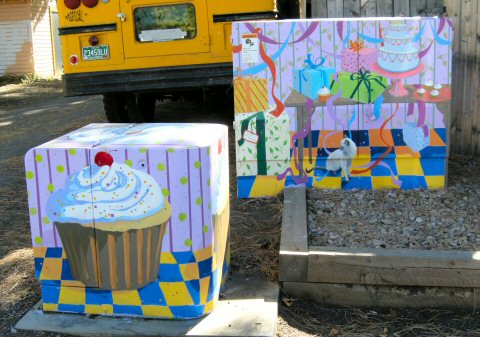 Artist: Nanci Erskine
Location: Behind 408 Remington St.
Description: Nanci's mural is a party in a box. Just add people. "Party in the Alley" shows a festive party scene complete with streamers, presents, and a giant cupcake.
Artist: Francisco Esteban
Location: North Tenney Alley at LaPorte Ave.
Description: Francisco's mural design is at once geometric and organic. From a distance, "Colorado Wildflower Design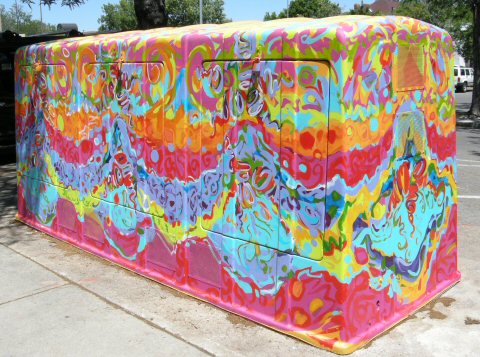 Artist: Diane Findley
Location: In the parking lot behind 214 S. College Ave.
Description: Diane's hope for "The Big Cake" is to make it look so delicious that you will want to jump right out of it. It calls out in celebration to all that pass by.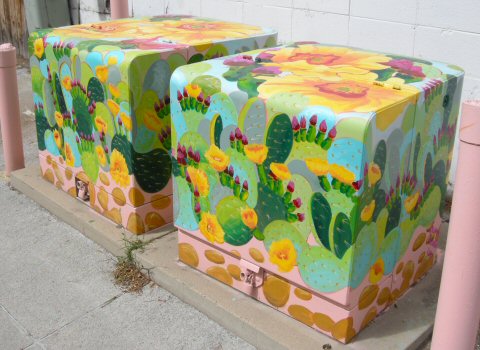 Artist: Susannah Franklin
Location: In the alley behind Pine and Jefferson Sts.
Description: Susannah decided to brighten up this paved urban alley with a cactus garden. "Prickly, prickly" makes prickly pear cacti look deceptively warm and inviting.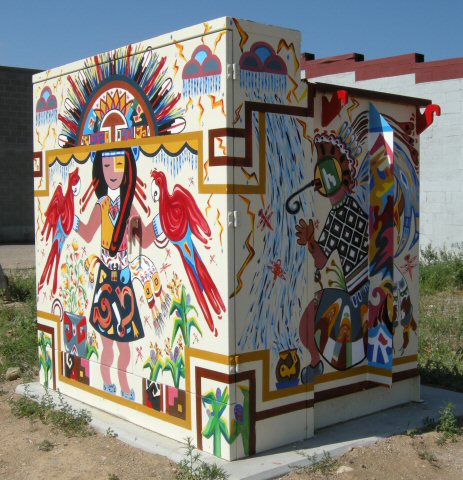 Artist: Mary Harnett
Location: Behind 204 Maple St.
Description: The imagery in "Rainmaking" is drawn from 600 year old paintings found in kivas of the ancient Puebloan people in New Mexico. Scarlet macaws, rain clouds, lightning, and dragonflies are used to depict rainmaking activities that took place in the kivas.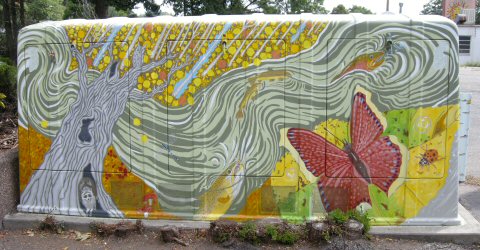 Artist: Carole Hossan
Location: Behind 219 W. Magnolia St.
Description: As you walk around Carole's mural, "Celebrating the Seasons of the Wild and Scenic Cache la Poudre River," you can see each of the four seasons, one per side. Look for real and imagined creatures inhabiting the riparian scenes.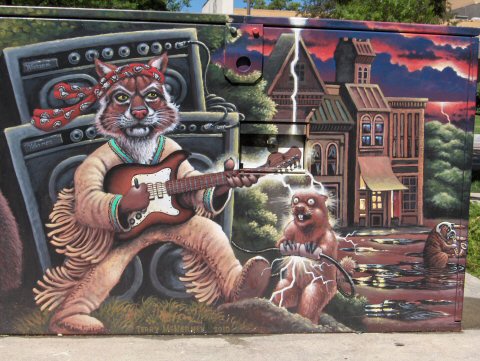 Artist: Terry McNerney
Location: Relocated to south Lemay, on the west side of the street, north of Seton
Description: Terry uses his whimsical narrative style to illustrate various indigenous animals engaged in musical pursuits in his mural, "♪ Critters."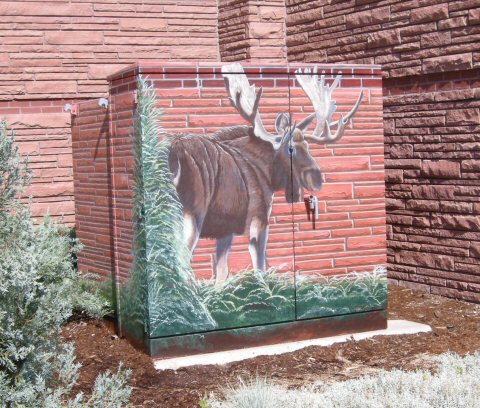 Artist: John Moore
Location: Off the SE corner of the County Courthouse at Mason and Mountain Sts.
Description: John uses tromp l' oeil (trick the eye) to make us think we are seeing a real live moose hanging out at the courthouse.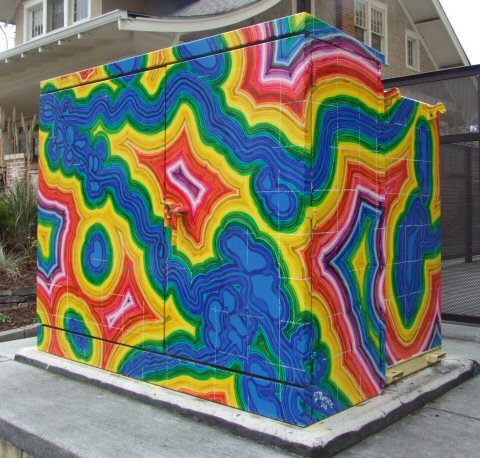 Artist: Elizabeth Morisette
Location: South of 224 Canyon St.
Description: On "Fort Collins Waterways" Elizabeth has created a stylized map of the waterways of our area. Astute viewers will be able to identify Horsetooth Reservoir and the Cache la Poudre River, as well as many smaller ponds and creeks among the radiating lines of the color spectrum.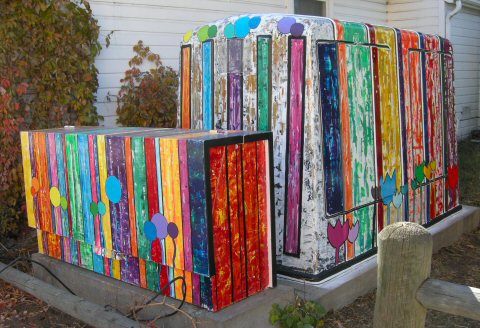 Artist: Frank Stanley
Location: Behind 622 S. Mason St.
Description: For his mural, "Melted Crayons," Frank uses abstract smears of color to create a strikingly bold background for his simple flower shapes.
Artist: Gale Whitman
Location: In the parking lot of 324 Remington St.
Description: Gale brings a giant sunflower to the hard pavement of this parking lot. "Purple Sun" is a welcome splash of exuberant organic sunshine in this functional area of drab surfaces.

Non-Profit Group: Girl Scout Troop 2258
Location: Behind 230 Remington St.
Description: The girl scouts worked with participants of Elderhaus Adult Day Care for the imagery on their three cabinets. Outlines of Elderhaus participants' hands, abstract expressions of their memories, and colorful dots representing the people of Fort Collins can be found on "Mr. Blob," "Waters From Near and Far," and "Helping Hands." The girl scouts and their leaders worked hard to transform the cabinets into vibrant works of art.