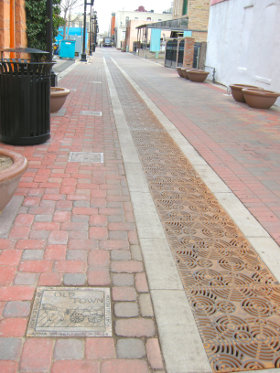 DDA Alley Paver Project
Art in Public Places worked in cooperation with the Downtown Development Authority to create 60 granite pavers for the DDA's Alley Enhancement Project. Drawings by local youth were selected through an open competition, and sandblasted into the pavers, which are placed in the two completed alleys. Twenty pavers were created in each of three different themes.
Pavers in the theme of "Sustainability" are in the Montezuma Fuller Alley, between Oak and Mountain Streets, just East of College Ave.
See the "Sustainability" pavers.
Pavers in the theme of "History" are in the Old Firehouse Alley, between Pine and Linden Streets, just North of Walnut St.
See the "History" pavers.
Pavers in the theme of "Art/Music/Cool patterns" will be placed in the Myrtle Alley, between Laurel and Myrtle Streets, just West of College Ave. upon the completion of that Alley Enhancement Project in 2011.
See the "Art/Music/Cool patterns" pavers.