Art
in

Public Places – Celebrating 25 Years
Take
a

Public Art Tour this 4th

of

July!
The City of Fort Collins Art in Public Places and Engineering Department, in partnership with the Downtown Creative District, is hiring local artists to paint temporary murals on the concrete barriers around outdoor dining areas throughout downtown.
Pianos About Town is a collaborative effort between the Fort Collins Art in Public Places Program and community partners Bohemian Foundation and the Downtown Development Authority. This exciting project brings together visual art and music for the public to enjoy. We currently in our 10th season! For updates and to share your photos and videos of the pianos in action, please visit us on Facebook.
Help us care for the pianos! If you enjoy playing the pianos, help us protect them by closing the keyboard cover after each use and using the attached tarp to cover the piano in times of bad weather and overnight—Thank you!
New Art
at

the

Poudre River Whitewater Park
The sculpture, titled Heritage Gateway, was recently installed at the Poudre River Whitewater Park along the Poudre Trail across from Whitewater, the wave shelter located on the south bank of the river. Both works were created by Art in Public Places (APP) artist John Davis.
Thanks to support provided by the Poudre Heritage Alliance, Downtown Development Authority and other community donors, visitors to the park can now learn about the history and importance of the Cache la Poudre River, and its long-lasting impacts on agriculture, industry and recreation in Fort Collins.
Art
at

the

Poudre River Whitewater Park
Whitewater by John Davis is inspired by water rapids and the associated whitewater that is created by the bubbles generated as water crashes against the rocks and boulders. It creates a connection between the overlook plaza and rapids below. The curving "wave" shapes of the structure mimic the waves of water in the rapids of the Cache la Poudre River below.
Art
on

the

Fossil Creek Trail
Sphere by Stephen Shachtman is inspired by its location near the historic site of the brick kilns and just southwest of the recreation bike trail and railroad track. The oversized sphere made from 903 brick-like pieces of flagstone plays off the scale of the site and the nearby tunnel, appearing to be the same size as the tunnel opening.
Art
at

Riverside

And

Mulberry
Mountain Openings, Colorado artist Robert Tully's sculptures located on the northeast corner of the intersection of Mulberry Street and Riverside Avenue is now illuminated.
It is made up of sculptures ranging from 20 to 6 feet. They can be found in groupings that start on the corner and continue north down Riverside and are inspired by sandstone cliffs in the valley where Highway 14 splits from 287. The sculptures include both man-made and natural elements, combining about 140 tons of local buff sandstone with metal accents. The piece is illuminated at night.
Landscaping will finish the design of the corner this spring.
In-Progress Projects
2020 Piano Muralists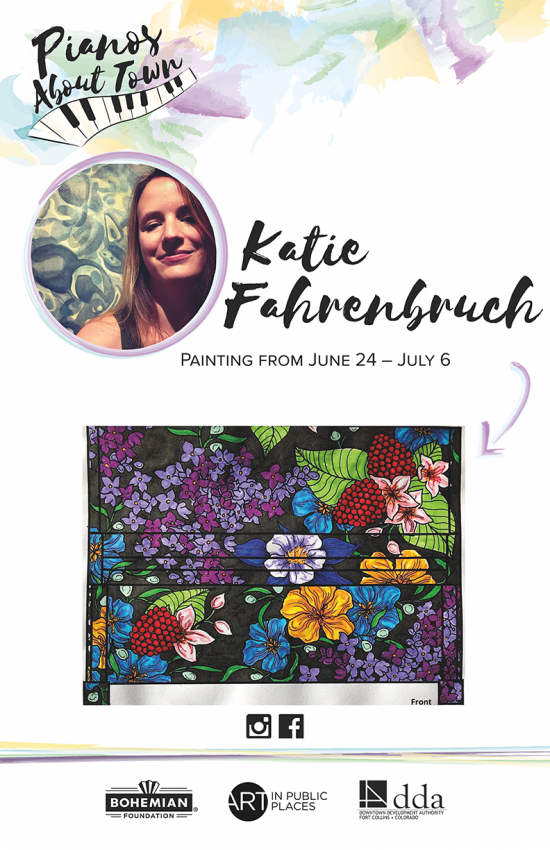 June 24 – July 6