Clean Cities: Colorado and National Program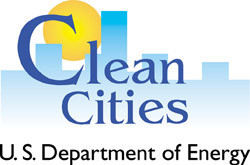 Clean Cities is a locally-based government and industry partnership coordinated by the U.S. Department of Energy (US DOE) to expand the use of alternatives to gasoline and diesel fuels. The City of Fort Collins supports the Clean Cities efforts and tries to help promote the program's goals and objectives.
The Clean Cities program promotes the use of alternative fuels by fleets in order to:
Reduce U.S. dependence upon foreign transportation fuels. The U.S. imports four million barrels of oil a day.
Reduce air pollution and improve public health. Alternative fuels have the potential to significantly reduce motor vehicle emissions.
Educate the public on the benefits of alternative fuels and alternative fuel vehicles (AFV).
Encourage the development of an AFV infrastructure.
Alternative fuels include propane, compressed natural gas, ethanol, methanol, liquid natural gas, electricity, and biodiesel.
The Clean Cities program began in 1994 and Philadelphia received the first Clean Cities designation. Cities, such as Fort Collins, become designated by: appointing a coordinator, holding stakeholder meetings, developing a program plan, and writing a Memorandum of Understanding (MOU) that guides subsequent work. The MOU is a non-binding agreement with US DOE to advance the use of AFVs among fleets.
Visit Clean Cities, for more information.