Football
Since 1946 the City of Fort Collins youth football program has taught kids important life skills. Generations of Fort Collins children have discovered a game they love while making lifelong friends, building character and staying physically active.
Today the City of Fort Collins Recreation Department continues to offer a wide variety of youth and adult football programs. Young football players can participate in ultimate football, flag football and tackle football. Recreation also offers adult flag football leagues for those older athletes seeking gridiron glory.
Ultimate Football
Our Ultimate football program introduces children to the concepts of football in a non-contact setting.
Flag Football
The flag football program offers the fundamentals of football without tackling
Tackle Football
The tackle football program teaches skills and fundamentals of the game with an emphasis on sportsmanship and equal participation.
Let's play football. Join us today.
News/Events
All game schedules and coaching information can be found here.
Fall Adult Flag Football
Adult Outdoor Flag Football
League Start: Week of August 21
Fee: $435
Age: 16+ years
Location: Rolland Moore Park
Leagues are 8-on-8 non-contact. 8 games guaranteed. Click here to view different league times and to register.

Adult Indoor Flag Football
League Start: Sundays, November 5-December 17 l 9:30 a.m.-Noon
Fee: $450
Age: 16+ years
Location: The Edge, 4450 Denrose Ct.
Indoor leagues are 8-on-8 non-contact. 6 games guaranteed. Registration ends October 27, or when leagues fill. Register here.
Fall Youth NFL Flag Football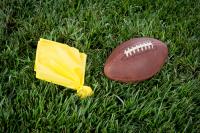 Date: September 9-October 21
Location: Varies with team
Age: Teams available for Kindergarten-8th Grade
Cost: $84

Learn the fundamentals of football and sportsmanship through non-contact action. Practices are held twice a week with games on Saturday mornings. Six games and a tournament will be scheduled.

Select the desired age group below to register for a team:
Fall Youth Tackle Football
Season Dates: August 28-October 28
Age: Grades 3-6

Early Bird Registration until 7/28: $121
Regular Cost after 7/28: $136

All tackle football registrations must be made in person at Foothills Activity Center or Northside Aztlan Community Center. Participant must be present to weigh in as teams are formed by weight. Practices will be held 2-3 times per week with games on Saturday mornings or weeknights. 8 games will be scheduled.
Direct questions to Sara Stone at 970.221.6308.