Outdoor Vendors
Proposed Update for Food Truck Vendor Requirements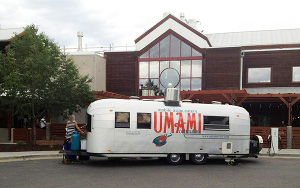 Local Food Truck in Fort Collins Staff has been asked to update mobile food truck vendor requirements to ensure greater mobility, determine appropriate separation distance between food vendors and existing brick and mortar restaurants, and provide a land use and zoning review process as part of outdoor vendor licensing.

The City is considering new restrictions on length of time an outdoor vendor can operate in a single location on private property as a temporary and accessory use. Over the past few years, some outdoor vendors including food truck and trailer operators have set up permanent or semi-permanent locations for vending on private property, reflecting a non-mobile operation. The intent of the Code for outdoor vendor food truck operations was drafted to ensure a mobile operation and it addressed the specific impacts and requirements of a mobile operation. Such impacts and requirements of a mobile operation are different when the mobile operation becomes non-mobile. The impacts and requirements then become more akin to a brick and mortar business.
What Do You Think?
We welcome your feedback by taking this short questionnaire. The purpose of this questionnaire is to provide additional feedback in addition to public meetings, and not intended to be a statistically valid survey.
Public Review and Comment
2016:
Online Questionnaire
An online questionnaire is open until 5:00 P.M. Friday April 29, 2016 (see link above)
Outdoor Food Truck Vendor Meeting
Thursday March 3, 2016
City Building - 281 N. College Ave (3:00-4:00 p.m.)
Food Truck Vendor Meeting
Wednesday April 20, 2016
City Building - 281 N. College Ave (4:00-5:00 p.m.)
Planning And Zoning Board Hearing (Recommendation to Council):
May 12, 2016
City Council Hearing (Decision)
June 7, 2016
2015:
Summary of Public Feedback last Fall
View Meeting Summaries (PDF)
---
For more information, contact:
---