Recycling
Physical Address: 215 N Mason St, Fort Collins, CO 80524
Mailing Address: PO Box 580, Ft. Collins, CO 80522-0580
Phone: (970) 221-6600
Fax: (970) 224-6177
Email:
Normal Business Hours: 8 a.m. to 5 p.m. (M-F, except for holidays)
The Compost Worm Exchange!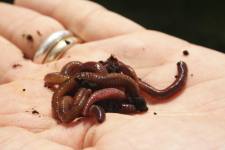 The Worm Man (of "Wormbulance" fame) from Garbage Busters in cooperation with the City of Fort Collins Natural Resources Department introduces the Compost Worm Exchange!
The Compost Worm Exchange is easy to use and provides a medium for those who want to obtain compost worms with those who have compost worms to give. The Worm Exchange also matches those who are seeking advice on vermicomposting (composting with worms) with those who have the know-how and expertise. All you have to do is ask!
The Compost Worm Exchange program operates year round, and is a decentralized, email-based service which uses Yahoo! Groups to facilitate the exchange of compost worms, education, and advice.
To participate in the Compost Worm Exchange simply visit:
Next, click the "sign up" link. If you already have a Yahoo! Login, simply sign in. If you don't have a login, fill out the online form to obtain a login. Please note that due to increased levels of spam e-mails, the Fort Collins Compost Worm Exchange is only available to registered users. Refer to the program website for guidelines about how to compose and post your "Compost Worms Wanted" or "Compost Worms Available" message.
Take recycling up a notch and have the compost worms work for you to transform your household organic resources into valuable compost!