Taking Action to Reduce the Use of
Disposable Shopping Bags
On March 18, 2013, the City Council discussed placing a fee on disposable shopping bags. The discussion resulted in a split vote. As communities around the world continue to discuss the topic, this webpage will remain to educate residents about plastic bags. This site also serves as a resource for residents who would like to learn more about reusing and recycling their plastic bags.
In communities where there is a charge for bags, fees are typically distributed to grocery stores to repay them for costs associated with supplying disposable bags to customers. The remainder is remitted to pay the local government for educational campaigns and store signage, to buy reusable bags for citizens, or to recover costs to administer and enforce the policy.
It appears that at least a 50% reduction in usage of check-out bags occurs in places where regulations are adopted. Washington D.C. has a fee of 5 cents per bag where a reduction of 80% use was documented. Ireland's 15 cent/bag fee reduced use by 90% in 3 months.
For more information about the options available to City Council, check out the Triple Bottom Line Evaluation: Plastic Bag Policy Options, October 2012 (PDF 673KB).
WHAT ARE SOME REASONS PEOPLE ARE CONCERNED ABOUT THE USE OF DISPOSABLE PLASTIC BAGS?
Resources are wastefully consumed. It's estimated that as 500 disposable plastic shopping bags are used per consumer each year.
Disposable plastic bags are manufactured from polyethylene, a synthetic compound.
Plastic bags are a litter and visual pollution problem; once loose in the environment, they do not biodegrade.
Plastic bags pose a threat to wildlife and ecosystems.
When people get used to supplying their own durable, re-usable shopping bags, it establishes a whole new commitment for them about applying re-use concepts and practices in other parts of their daily lives.
WHICH COMMUNITIES ARE ALREADY REGULATING CHECKOUT BAGS?
---
At least a dozen countries around the world, an estimated 25% of the world's population, now live in areas with bans or fees on plastic bags.
---
Nearly 100 countries, cities, and counties regulate single-use bags by either banning them entirely, or creating a fee to give shoppers a financial incentive to bag their purchases in a reusable bag made of durable material.
It's hard to stay current with exactly how many U.S. communities have regulations on bags because every month seems to bring new reports. However, there are at least 51 cities (many in California) and at least 12 countries that regulate plastic bags.
DON'T TRASH THEM!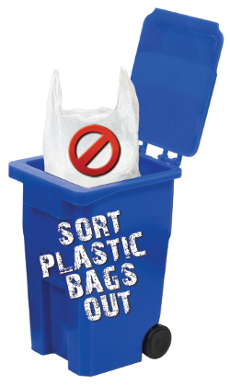 Plastic bags need to be collected separately; otherwise they create severe problems by getting caught in equipment. Recycling plants spend countless hours of lost time, productivity and money laboring to untangle plastic bags and fix equipment. PLASTIC BAGS CANNOT GO IN CURBSIDE BINS.
All local grocery stores (and even some retailers) accept dry, clean plastic bags for recycling. The look and location of each store's recycling bin may vary.
FOR MORE INFORMATION, CONTACT
Susie Gordon
Senior Environmental Planner

970-221-6265