Taking Action to Reduce the Use of
"Single-Use" Disposable Shopping Bags
On August 19, the City Council will address two ordinances: Option 1 is the original ordinance that would require grocers to charge customers at the check-out register 10 cents for single-use disposable shopping bags (both paper and plastic). This ordinance, Ordinance No. 099 (PDF 205KB), 2014, passed on a 5-2 vote on July 1 on first reading. A list of Frequently Asked Questions (PDF 136KB) provides more details about how the originally proposed ordinance would be implemented.
Option 2 is an ordinance recently developed by City Councilmembers based on some of the input they have received from citizens at a public information meeting on July 30 and via CityLeaders@fcgov.com. Read Option 2 (PDF 205KB).
Community concerns have led City Council to ask staff to examine options in limiting use of single-use disposable shopping bags – i.e. only those provided at checkout. City staff has begun developing a proposal for a "Merchant Regulation" ordinance.
The proposal prohibits grocers from giving disposable shopping bags to customers free of charge, and requires grocers to apply a minimum cost of $0.05 or $0.10/bag for single-use plastic and paper bags. In this proposal, all revenue would be retained by merchants.
An estimated 50 million disposable bags are used in Fort Collins each year. On average, that is 342 disposable shopping bags that citizens go through. Finding alternatives to single-use products and merchandise is an important objective of Fort Collins' 2013 Road to Zero Waste Plan and community Zero Waste goals.
Changing shoppers' use of disposable bags is a key to showing how each of us can personally engage in "Zero Waste" strategies. It reinforces Fort Collins' commitment for achieving Zero Waste goals in addition to supporting the community's greenhouse gas reduction goals; learning new habits to use durable bags is the first step toward other new "reuse" habits that become incorporated into people's daily lives.
The goals of the proposed Merchant Regulation ordinance are to reduce stray litter and pollution in the community (and globally), including plastic bags in trees and waterways; reduce costs for processing recycling at the regional material recovery facility, and costs for cleaning up plastic bags at the Larimer County Landfill and other public areas; and help conserve resources like petrochemicals (used to make plastic bags) and trees.
For more information about the options available to City Council, check out the Triple Bottom Line Evaluation: Plastic Bag Policy Options (PDF 673KB).
What's Happening In Other Communities?
In communities where there is a charge for bags, revenues are typically split between the grocery stores (to assist with costs for what they paid to buy disposable bags) and the local government, which may conduct educational campaigns and create signage, buy reusable bags for citizens, and recover costs to administer and enforce the policy. In comparison, Fort Collins' proposed 2014 ordinance would allow merchants to retain the entire revenue.
---
At least a dozen countries around the world, an estimated 25% of the world's population, now live in areas with bans or fees on plastic bags.
---
It appears that at least a 50% reduction in usage of check-out bags occurs in places where regulations are adopted. Washington, D.C., has a charge of 5 ¢/bag – a reduction of 80% use was documented. Ireland's 15 ¢/bag reduced use by 90% in three months.

Over 100 countries, cities, and counties regulate single-use disposable bags – a.k.a. "plastic bags" – by either banning them entirely, or requiring stores to charge for bags, to give shoppers a financial incentive to bag their purchases in a reusable bag made of durable material.
It's hard to stay current with exactly how many U.S. communities have regulations on bags because every month seems to bring new reports. However, there are at least 51cities (many in California) and at least 12 counties that regulate plastic bags.
For a national list of plastic bags ordinances, visit www.cawrecycles.org/issues/plastic_campaign/plastic_bags/national
For more information about restrictions on usage of disposable bags in other countries, visit
www.plasticbags.planetark.org/gov/othercountries.cfm
You Matter
City Council is scheduled to review the proposed Merchant Regulation ordinance at the May 13 work session. Depending on the guidance Council provides to staff at that meeting, the ordinance could be adopted as early as mid-June, with the actual date of implementation to be determined. City staff is seeking public input and involvement to be included in the staff report that will be provided to City Council.
The City's Environmental Services Department held an open house on April 3, 2014, in which the public was invited and encouraged to attend to provide feedback about the proposed ordinance.
As communities around the world continue to discuss the topic, this webpage will remain to educate residents about single-use disposable plastic bags, and also serve as a resource for residents who would like to learn more about reusing and recycling plastic bags.
It is still not too late to comment and provide feedback regarding the proposed Merchant Regulation ordinance - follow us on Facebook and Twitter (links can be found below), or submit comments below.
SOME REASONS PEOPLE ARE CONCERNED ABOUT THE USE OF DISPOSABLE PLASTIC BAGS INCLUDE:
Resources being wastefully consumed – it's estimated that a consumer uses as many as 500 disposable plastic shopping bags per year
Although recycling is easily accessible and single-use disposable plastic bags make up less than one percent of the U.S. municipal solid waste stream, the recycling rate is less than five percent
Disposable plastic bags are manufactured from polyethylene, a synthetic compound
Plastic bags are a litter and visual pollution problem; once loose in the environment, they do not biodegrade
Plastic bags may clog storm drains and contaminate waterways, in addition to jamming recycling machinery – creating excess repair costs
Plastic bags pose a threat to wildlife and ecosystems
SOME REASONS WHY PEOPLE ARE AGAINST RESTRICTIONS ON USAGE OF DISPOSABLE BAGS INCLUDE:
The convenience of these bags to be reused to line trash bins, collect pet waste, carry/hold lunch or other items, etc.
Plastic bags make up less than one percent of the U.S. municipal solid waste stream
Reusable/durable bags can be unsanitary and pose a health risk due to bacteria and cross-contamination of food products
Plastic grocery bags are 100% recyclable and all local grocery stores in Fort Collins now accept dry, clean plastic bags for recycling (nationally, 91-93% of the population have access to local plastic bags recycling)
Want to learn more about what the opposition thinks? Visit www.plasticsindustry.org/apba or www.bagtheban.com
REMEMBER WHEN THERE WERE NO PLASTIC BAGS?
It's only been 37 years since plastic grocery bags were introduced to the supermarket industry as an alternative to paper bags in 1977.
Restricting usage of single-use disposable bags is the first step toward developing new and other "reuse" habits that become integrated into peoples' daily lives. We can do better.
If washed often enough, trash bins do not need to be lined
There are a variety of supplies to collect pet waste with, not only plastic bags
Hand or machine washing reduces bacteria in reusable bags by >99%
Designate a bag for meat and fish products and another for produce, dairy products, and/or other perishable items to avoid cross-contamination
DON'T TRASH THEM!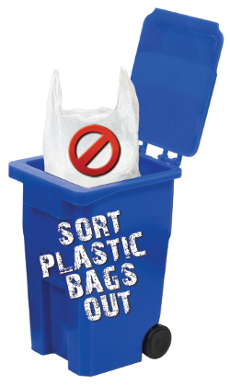 Plastic bags need to be collected separately; otherwise they create severe problems by getting caught in equipment. Recycling plants spend countless hours of lost time, productivity and money laboring to untangle plastic bags and fix equipment. PLASTIC BAGS CANNOT GO IN CURBSIDE BINS.
All local grocery stores (and even some retailers) accept dry, clean plastic bags for recycling. The look and location of each store's recycling bin may vary.
FOR MORE INFORMATION, CONTACT
Susie Gordon
Senior Environmental Planner

970-221-6265