Leaf Exchange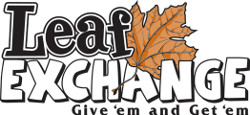 Did you know the City's Environmental Services Department sponsors a year-round Leaf Exchange? Most exchange activity occurs in the Fall, when residents may find themselves with piles and piles of leaves.
So what should residents do with leaves once they're raked? Composting is an option for some, but if not, how do you get rid of them?
Entering its ninth year, the Leaf Exchange is a City-sponsored, free web-based program that connects people who need to get rid of leaves with those who need leaves for composting. Leaf-givers and leaf-takers can contact each other through the City's Yahoo!Groups page and arrange for leaf pick-up and delivery.
Why participate? Not only is the Leaf Exchange free, it serves multiple purposes.
Leaves are excellent for composting and several local residents and farms use them to insulate plants and gardens for winter.
The Leaf Exchange keeps leaves from local landfills and helps residents avoid extra charges on their trash bill.
Plus, it stops residents from raking leaves onto the street, which can clog storm drains.
Do not include rocks, trash, twigs or branches in your leaves.
To participate in the Leaf Exchange visit the program website. Click the "Join Group" link. If you already have a Yahoo! login, simply sign-in. If you don't, complete the online form.
Refer to the Leaf Exchange website for guidelines about how to post to your "leaves wanted" or "leaves available" message.
There are times that supply exceeds demand. Can't find someone to take your leaves? Additional leaf drop-off locations are listed here. Please keep in mind that the City of Fort Collins makes no guarantees regarding the status of any listed material and it does not arrange transportation of materials. Most important, however, is that residents and business owners may not rake their leaves into the street.