Computer / Electronics Recycling
Each year, 50 million computers and monitors and 130 million cell phones (along with TVs and other electronics, these items are regarded as "e-waste") are landfilled in the United States, waste that contains significant quantities of hazardous materials, such as lead and mercury. Because of the environmental hazards associated with these materials, businesses and households (learn more->>) are prohibited from disposing of electronics (including computers, televisions, cell phones, PDAs, etc.) in the trash to ensure toxic materials are kept out of our local landfills.
In Fort Collins there are many options for recycling household and commercial e-waste, including drop-off and pick-up services and special collection events held throughout the year.
You may also consider donating your computer equipment or cell phone to a non-profit organization that refurbishes these items for use in schools and social programs. Please use this opportunity respectfully to ensure responsible waste disposal is not simply passed on to those least likely to have access to recycling options.
IMPORTANT: Whether you recycle or donate your computer equipment, you should consider "wiping" your hard drive(s) to ensure all personal data cannot be recovered (remember, deleting your files is not enough!). For more information on personal computer data security, search on "wiping software" or visit the Dell website for useful summaries about personal data security and more information about wiping software (some of which is available at no cost, such as "DBAN").
Local E-Waste Recyclers for Households
Households should expect to pay a small fee (to cover handling and specialized recycling processes) to recycle certain types of e-waste including computer CPUs, monitors and TVs. Other items, may be accepted at no charge. The Colorado Department of Public Health and Environment (CDPHE) has compiled a list of questions that may be helpful to consider as you choose a recycling vendor.
Many computer manufacturers and some retailers have created e-waste recycling programs and some will take back your old computer equipment for recycling when you purchase new equipment, often at no additional cost.
If your computer manufacturer is not listed here, contact them to find out more about their recycling and take-back policies.
Donating Computers and Cell Phones
Numerous organizations will accept donations of working computing equipment and cell phones. Donated and refurbished equipment is often distributed to disadvantaged communities, including schools and social programs.
Electronics Exchanges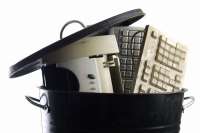 Commercial E-Waste Recycling
Colorado law regards electronics as hazardous waste, thus businesses, schools and government entities are prohibited from landfilling (directly or through your trash service) electronic waste, including: color monitors and televisions, CPUs, keyboards, printers, VCRs and other end-of-life electronic equipment.
Local e-waste recycling options exist for your business, school or government agency:
Electronics and Energy Efficiency
Other Information about Electronics Recycling