Business Recycling
Recycling & Composting Rebates for Businesses Now Available!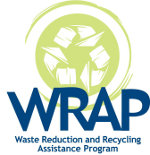 The City of Fort Collins is committed to helping increase the amount of recycling and composting taking place in local businesses. As part of a suite of new programs, the City municipality now offers financial incentives to local businesses that start a recycling or composting program. (Referral incentives (PDF 81KB) are also available for those who refer a business complex to start service.)
As part of this new service, on-site assessments and education are also available at no charge. Business can obtain suggestions for how to start a program and assistance in getting the program up and going.
For a detailed review of WRAP, take a look at the WRAP Brochure (PDF). Here are complete details on recycling and composting rebates for businesses:
For questions, additional information, or to schedule an on-site assessment, please contact Caroline Mitchell, environmental planner, at (970) 221-6288, or via email at .
Topics on this page:
---
Change the environment at work. Rather than "trashing" your office paper, newspaper, and cardboard, recycle it instead! Offices, both in government and in the private sector, generate over 10 million tons of waste paper each year.
In starting an office recycling program, a common tendency is to focus on business papers. However, newspapers and corrugated cardboard may comprise a significant portion of your office waste stream and should be collected for recycling. You may also want to add glass, toner cartridges, aluminum and plastics to your office's recycling program. Local trash haulers and recycling companies offer recycling services -- check the yellow pages under "Recycling Services". For more detailed information see Recycling Office Waste - A Step by Step Guide.
Business Junk Mail Elimination

Here's a great resource that solves an annoying and costly problem for your business - - the stacks of catalogs, brochures, magazines and other mail sent by marketers to employees who are no longer there, plus there are tremendous environmental benefits. According to the Ecological Mail Coalition (www.ecologicalmail.org), for every 20 employees still receiving mail, as much as 300 pounds of trash is generated annually from these mailings. The Ecological Mail Coalition was formed to unite businesses and marketers to reduce waste and increase efficiency for everyone. There is no cost to join, no obligation and no time commitment.
General Waste Reduction Information and Sites:
EPA Wastewise http://epa.gov/wastewise/
Recycled Products Cooperative http://www.recycledproducts.org
Things You Can Do at the Office and Home to Reduce Waste (pdf)
Waste Reduction Tips for Businesses (pdf)
Source Reduction - Savings for Business (pdf)
General guidelines for what is and isn't recyclable paper products... more->>
COMex - Colorado Materials Exchange. www-ucsu.colorado.edu/comex/. The Colorado Materials Exchange (COMex) provides an on-line bulletin board for exchanging computers and electronics between businesses that have a surplus of such materials and community groups in Colorado who could use them. COMex operates the web site that is a free listing service for available and wanted computers and electronic equipment. When institutions or businesses donate working equipment that still has practical application, they help bridge the "digital divide" providing community groups with technology they would not be able to afford otherwise.
Paper and Office Waste Reduction Sites:
Conservatree has a website dedicated to providing comprehensive information about environmental papers. www.conservatree.com
American Forest and Paper Association Recycling Paper poster (pdf)
Recycle Tyvek envelopes here.
Hewlett Packard's Recycling Program for Businesses and homes
www.hp.com/hpinfo/globalcitizenship/environment/recycle/index.html
IBM PC Recycling
www-132.ibm.com/content/search/computer-disposal.html
For more information about computer and electronics recycling, see the Computer Recycling section of this website.
Buy Recycled. Collection alone is not really recycling. Closing the loop by purchasing products made from recycled material is equally important in achieving true recycling and creating a market from the products.
Hazardous Wastes. Business or commercial hazardous wastes are accepted at low cost through the County's BHAPE Program (Business Hazardous Waste Assistance Program and Eduction). Business waste cannot be accepted without an appointment; call 498-5760 for more information or click on this link to the Larimer County Household Hazardous Waste web site.
Recycling Containers and Products
Cell Phone Recycling and Reuse
Click here for more information on recycling options for cell phones or consider donating working equipment.