Multi-Family Recycling
In Fort Collins, residential locations in which each unit has its own trash bin are covered by the City's Pay-As-You-Throw (PAYT) ordinance, which bundles the cost of trash and recycling. The majority of apartment and condo complexes have shared trash dumpsters and are not included in the PAYT ordinance. Trash haulers are required to provide recycling service to complexes if requested, but will charge an additional fee for the service. The additional charge for recycling can often be offset by decreasing the amount of trash service at the complex. An assessment from the Waste Reduction and Recycling Assistance Program (WRAP) can help you understand your options.
Waste Reduction and Recycling Assistance Program (WRAP)
The City of Fort Collins is committed to help increase the amount of recycling and composting in apartment and condo complexes. WRAP provides free on-site assessments and communication materials to improve an existing recycling program or help start a new one. Rebates are also available for apartment or condo complexes starting a new recycling or compost program: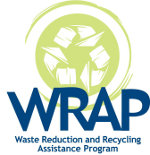 Service Rebate: 50% rebate on your first six months of recycling or compost service when you sign up for one year of recycling service (up to $500 per applicant)
Start-up Costs Rebate: 75% rebate on items such as indoor recycling bins or other start-up costs (up to $250 per applicant)
Referral incentive: Refer a business or apartment complex to start recycling or composting with WRAP and receive a $50 gift card.
For additional information, to schedule an on-site assessment, or to receive a rebate application, contact Caroline Mitchell at 970-221-6288, or at .
Informational recycling guidelines posters are available at no charge. We are happy to provide you with enough copies to handout to your residents and new residents as they arrive. The poster is also available in laminated or metal format for indoor and outdoor use. Having issues with illegal dumping in your current trash bins? We also provide free metal signs as a deterrent. Contact Caroline Mitchell at 970-221-6288 or at for more information.