Adult Opportunities / Senior Center / 50+
Adult Recreation provides opportunities for life enrichment through activity and knowledge and is offered at several locations including the Fort Collins Senior Center, Club Tico, Pottery Studio and Northside Aztlan Center.

Program focus includes:
Aquatics
Arts
Crafts and pottery
Dance
Drama
Leisure learning
Gardening
Fitness and wellness
Outdoor activities
Social programs and events
Travel
Additionally a number of services and community resources are made available on site at the Senior Center.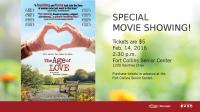 The Age of Love-Movie Screening
Date: Febuary 14th
An unexpected tale of intrepid seniors who lay their hearts on the line, and discover how dreams and desires change—or don't change—from first love to the far reaches of life.
Location: Senior Center
Price: $5.00
Time: Sunday, February 14th 2:30pm
Forever Mine
Date: February 12th
Gather your friends and family and celebrate the love of your life at this Valentines celebration! A three course meal will be served while enjoying dance and entertainment. Note: Cash bar available. Table reservatoins for tables of 6 or more; special dietary and transportation needs available upon request; note when registering.

Price: $22; 19.30 member
Time: Friday, February 12th from 6:00pm-9:00pm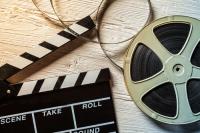 Afternoon at the Movies
The Next Showing:Moonrise Kingdom
Wes Anderson's quirky drama follows the frantic search that ensues in a small New Englan town when two 12-year-ld fall in love and run away together!
Movie nights are free for Senior Center members. Upcoming movies are:
*2/14 Su 2:30 PM The Age of Love $5 per ticket
2/19 F 1:00 PM Moonrise Kingdom
3/4 F 1:00 PM High Society
3/18 F 1:00 PM Ray
4/1 F 1:00 PM Grease
4/15 F 1:00 PM Chicago
5/6 F 1:00 PM To kill a Mockingbird
5/20 F 1:00 PM Big Fish
6/4 F 1:00 PM Forrest Gump
Dance
West Coast Swing
Wednesday, Feb. 3-Feb. 24 (8-9:30 p.m.)
Cost: $39
Line Dance Starter
Tuesday, Feb. 2-23 (12:30-1:45 p.m.)
Cost: $16
Line Dance Continued
Tuesday, Feb. 2-23 (1:45-3 p.m.)
Cost: $16 or $6 per person drop-in
Cards
Bridge, Mentoring
Cost: Free for members
Monday, Feb. 8 and Feb. 22 (6-8:30 p.m.)
Bridge, Beyond Beginning
Wednesday, Feb. 3–March 23 (6-8:30 p.m.)
Cost: $75 for non-members, $63.75 for members
Drop in Duplicate Bridge
Ongoing every Friday (11:30 a.m.-4 p.m.
Cost: $3.50 for non-members, $2.80 for members
Drop in Party Bridge & Pinochle
Cost: Free for members
Ongoing every Tuesday (12:30-4 p.m.)
Ongoing every Thursday (5-8 p.m.)
Prairie Sage Dances
Come enjoy Prairie Sage Dances each Monday from 7-10p.m.
Cost: $4
Upcoming dances are:
Feb. 15: H & H
Mar. 7th: Big Twang Theory
March 21st: Pepie
April 4th: H & H
April 18th: Pepie
May 2nd: Jim Ehrlich