Child Development
Child development programs provide learning experiences that encourage socialization, independence, education, creativity, and fun for children ages 6 months to 12 years. Classes cover a wide variety of interests such as arts and crafts, music, science, early learning, fitness, general education, dance & movement, drama, day camps and outdoor experiences. Classes and camps are staffed by knowledgeable, dedicated instructors committed to providing quality classes at affordable prices.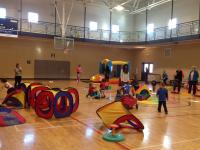 Tot gym/Baby Gym
Tot Gym/Baby Gym
Bring the little ones in for some fun gym time! Balls, blocks, a mini obstacle course and other activities will be set up for you and your youngsters to enjoy together! No need to register, just come on in! Children must be accompanied by an adult. $2.50 per child, adults and babies 12 months and younger are free
Location: Northside Aztlan Community Center
Tot Gym is on Tuesdays, Wednesdays & Thursdays 10:00 am-12noon
Baby gym is on Fridays for children 18 months and younger. 9:30-11:30 am $2.50 per/child Adults are Free!
Tot Gym/ Baby Gym will resume on 9/8!
Take the survey above to give feedback on your class!