Child Development
Child development programs provide learning experiences that encourage socialization, independence, education, creativity, and fun for children ages 6 months to 12 years. Classes cover a wide variety of interests such as arts and crafts, music, science, early learning, fitness, general education, dance & movement, drama, day camps and outdoor experiences. Classes and camps are staffed by knowledgeable, dedicated instructors committed to providing quality classes at affordable prices.
Recreation Junior Staff in Training
Junior Staff in Training Program
The Recreation Junior Staff in Training program is designed to give 14-17 year olds hands-on, pre-employment experience aimed towards bringing better-trained future entry level employees to the City's recreation programs.
The schedule of the Junior Staff in Training program is determined by the program needs of the Recreation Department. Space is limited. All candidates must fill out an application and write a short essay. To request an application or for more information call Lisa Ratajczak @ 970.416.2528 or email at . Mandatory interviews will be set up with select applicants. Application deadline is 5/15/2015
Before being placed in a recreation program selected Junior Staff in Training candidates must attend a scheduled orientation that will include a parent meeting, overview of recreation policies, staff manual and child labor laws and will be required to complete our Red Cross Babysitting Boot camp class.
Following orientation Junior staff in Training may work up to 30 hours per week for a minimum of 5 weeks in a youth recreation programs or camp. All junior staff will under the guidance of an experienced staff person.
Junior Staff will receive a performance evaluation, certificate of hours completed and a small stipend.
Cost of the program is
$160 for new applicants (includes enrollment in Babysitting Boot camp class).
$85 for new applicants that have previously completed Babysitting Boot Camp class.
$65 for Returning Junior Staff
The Junior Staff in Training program is partially reducible for those who qualify.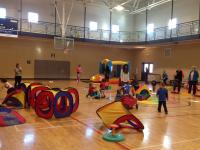 Tot gym/Baby Gym
Tot Gym/Baby Gym
Bring the little ones in for some fun gym time! Balls, blocks, a mini obstacle course and other activities will be set up for you and your youngsters to enjoy together! No need to register, just come on in! Children must be accompanied by an adult. $2.50 per child, adults and babies 12 months and younger are free
Location: Northside Aztlan Community Center
Tot Gym is on Tuesdays, Wednesdays & Thursdays 10:00 am-12noon
Baby gym is on Fridays for children 18 months and younger. 9:30-11:30 am $2.50 per/child Adults are Free!
Tot Gym/ Baby Gym will resume the week of 1/06
Take the survey above to give feedback on your class!