Child Development
Child development programs provide learning experiences that encourage socialization, independence, education, creativity, and fun for children ages 6 months to 12 years. Classes cover a wide variety of interests such as arts and crafts, music, science, early learning, fitness, general education, dance & movement, drama, day camps and outdoor experiences. Classes and camps are staffed by knowledgeable, dedicated instructors committed to providing quality classes at affordable prices.
Splish Splash Play Group
You and your child will have fun meeting and playing with others! Activities will include arts & crafts, music, social time and pool play. This is a great opportunity for parents in our community to meet others and let your children of the same age socialize and play.
Date: 2/4-2/25 Th 10:00am- 11:30am 117290-02
Ages: 12 months- 2 years
Location: Mulberry Pool
Fee: $32
Mulberry Adventures
Your child will enjoy arts & crafts, movement, school skills, indoor play, story time and pool fun. Snack included. There will be one day of recreational swimming per week. This class serves as a great complement to preschool or kindergarten.
Date: 02/02-02/25 Tu, Th 12:30-3:00pm 117205-02
Ages: 4-6 years
Location: Mulberry Pool
Fee: $105
Mother Hubbards Crafts & Cupboard
Mother Hubbard's Crafts & Cupboard
Join us for some fun in the kitchen! Each class is themed with hands-on activities. Class includes cooking, arts & crafts, and story time.
Dates: 2/5 10-11:00am F 117571-04
2/19 10-11:00am F 117571-05
Age: 2 years
Location: Northside Atzlan Center
Fee: $16
Young kids will begin to learn the fundamentals of hip hop in a fun appropriate environment. Hip hop, free style, tricks and breakdancing could all be incorporated.
Ages 3-5
Location: Club Tico
2/2-2/23 Tu 11:00-11:45am $33 116161-03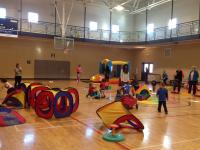 Tot gym/Baby Gym
Tot Gym/Baby Gym
Bring the little ones in for some fun gym time! Balls, blocks, a mini obstacle course and other activities will be set up for you and your youngsters to enjoy together! No need to register, just come on in! Children must be accompanied by an adult. $2.50 per child, adults and babies 12 months and younger are free
Location: Northside Aztlan Community Center
Tot Gym is on Tuesdays, Wednesdays & Thursdays 10:00 am-12noon.
Baby gym is on Fridays for children 18 months and younger. 9:30-11:30 am $2.50 per/child Adults are Free!
There will be not tot gym/baby gym on 3/14-3/16, 3/29, 4/8.
Take the survey above to give feedback on your class!