Ice Skating
EPIC offers a complete skating program with classes for all ages and abilities. Lessons are taught by Certified P.S.A. instructors and follow guidelines of the United States Figure Skating. In addition to Learn-to-Skate classes, instruction is offered in hockey, power, speed skating, dance, freestyle, adaptive and synchronized skating.
Power Skating
Hockey skaters will develop power, agility, and endurance.
Full hockey gear required.
Age: 9-17 years
Wednesday
3:45 - 4:30 PM
Cost: $12 per session
No session 12/24 & 12/31
Curling Drop-In
Cost: $7.50 per session
8 years and up
Tuesday: 1:00-2:30 PM
Participants need to wear a helmet, clean rubber soled sneakers,
and dress in layers that are stretchy or Loose.
Speed Skating
Ongoing
Beginner: W 4:45-5:30 PM, $12
Intermediate: W 5:45-6:45 PM, $15
Warm-up pants, long-sleeved shirt, and speed skates for Intermediate and Advanced are required.
No session will be held on 12/24 & 12/31.
Adult Drop-In Hockey
Cost: $4.00 per session
16 years and up
Monday - Friday: 11:15 AM-12:45 PM
Thursday: 1:00-2:30 PM
Tuesday & Thursday: 9:15 PM - 10:45 PM

No Session will be held 4/9 (PM), 4/10, 5/25.
Full Equipment required.
Limited to 30 players and 4 goalies.


Stick & Puck
Cost: $4.00 per session
Skate rental applies ($2.50)

Saturday/Sunday: 2:30-3:30 PM
No session will be held on: 4/5, 4/11, 4/12.
Gloves, shin guards, helmet and stick required. Full equipment recommended for all beginners. Limited to 30 people.
Additional Holiday Hours:
March 16 - 20
M-F: 4:30 - 5:30 PM
Fitness Skate & Skating Classes
Fitness Skate
Cost: $5.50 per session
Ages: 16 years and up
Monday-Friday: 11:15 AM-1:00 PM
No Session 4/4, 4/10, 4/17, 5/8, 5/15, 5/20, 5/25.


Additional Skating Classes
See the Recreator for details.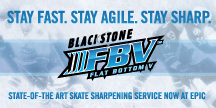 Drop-in sharpening service featuring the revolutionary new Flat Bottom V by Blackstone, the only one in Northern Colorado! Experience the advantage of superior endurance, greater power, enhanced agility and better control.



Cost: $8 for the new FBV technology, $5.00 for regular hollow (hockey)

Hours of Operation:
Monday through Friday: 5:30-9:30 PM
Saturday: 9:00 AM-2:00 PM and 5:30-7:30 PM
Sunday: 4:00-9:00 PM

*Skates can always be dropped off for sharpening services and picked up later.