Ice Skating
EPIC offers a complete skating program with classes for all ages and abilities. Lessons are taught by Certified P.S.A. instructors and follow guidelines of the United States Figure Skating. In addition to Learn-to-Skate classes, instruction is offered in hockey, power, speed skating, dance, freestyle, adaptive and synchronized skating.
There are no current flyers available.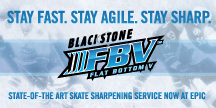 Drop-in sharpening service featuring the revolutionary new Flat Bottom V by Blackstone, the only one in Northern Colorado! Experience the advantage of superior endurance, greater power, enhanced agility and better control.



Cost: $8 for the new FBV technology, $5.00 for regular hollow (hockey)

Hours of Operation:
Monday, Wednesday, Friday: 4:45 PM – 9:15 PM
Tuesday & Thursday: 8:45 AM – 11:45 AM
Tuesday & Thursday: 5:45 PM – 9:15 PM
Saturday: 1:45 PM – 6:15 PM
Sunday: 3:45 PM – 8:15 PM
*Drop-off service available outside of these hours.