Job Openings: City of Fort Collins Police Services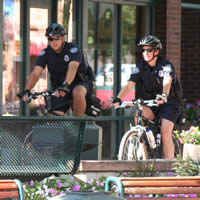 Fort Collins Police Services
2221 Timberline Road
Fort Collins, CO 80525
Phone: 970-221-6540
Fort Collins Police Services offers many sworn and civilian career employment opportunities in the following areas:
Police Officer
Community Services Officer
Emergency Services Dispatcher
Police Report Specialists
Crime Analysis
Computer Services
Crime Lab Technicians
Property/Evidence Technicians
Finance
Secretarial/Administrative Assistant
Sworn Employment Opportunities
Fort Collins Police Services (FCPS), one of the finest and most advanced law enforcement agencies in the country, is a leader in community policing and overall crime reduction and is committed to the philosophy of community policing. FCPS offers great pay and benefits as well as equipment and training that prepare you to perform as a professional police officer for the city of Fort Collins. FCPS does not have a lateral transfer program at this time. Certified or certifiable police officers start at one pay grade higher than those without certification.
Civilian Employment Opportunities
Fort Collins Police Services employs approximately 89 civilian personnel in a wide variety of positions.
Current Job Openings
We are currently accepting applications for the position of Police Officer. Applicants must be Colorado POST certified or serving as a Police Officer in another state and eligible for Colorado POST certification. Please go to the City of Fort Collins website at www.fcgov.com/jobs to apply. We anticipate that we will open a hiring process for both POST certified and non-certified in November, 2015.