West Central Area Plan
Updated vision and priorities for the West Central Area of the city, focusing on neighborhood character, transportation needs, the natural environment, and a new design for Prospect Road (from Shields to College).
UPCOMING EVENTS
Thank you to everyone who attended the Open House on September 18 and Prospect Corridor Workshop on September 22. The materials presented at both events are now available under Past Events on this page.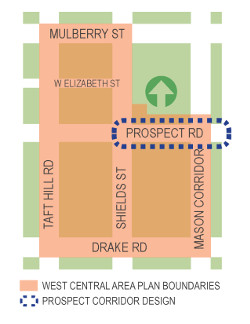 Request a Workshop
Interested in a listening session or workshop for your group? We are conducting additional sessions for interested groups and organizations by request. Contact Rebecca Everette at (970) 416-2625 or to schedule a time.
PROJECT OVERVIEW
The purpose of this planning effort is to revisit and update the 1999 West Central Neighborhoods Plan based on emerging issues and trends. The West Central Area generally encompasses the neighborhoods south and west of the CSU Main Campus (see map). The Plan will incorporate new information from related planning efforts and will serve as a guide for:
Land Use & Neighborhood Character (e.g., zoning, density, historic preservation)
Transportation & Mobility (e.g., connections to the new MAX bus rapid transit system, bicycle and pedestrian enhancements, intersection safety)
Open Space Network (e.g., parks and open space, wildlife habitat, drainage and floodplain management)
PROSPECT CORRIDOR DESIGN
The project will also include a new conceptual design for Prospect Road from Shields Street to College Avenue. Corridor alternatives will be developed and evaluated to establish a preferred design that is functional, safe, and well-marked for pedestrians, bicycles, buses, and cars.
WHY UPDATE THE PLAN?
Given City Plan's emphasis on infill versus sprawl, CSU's increased enrollment projections, and the possibility of an on-campus stadium, it is time to re-assess the plan and its policies to preserve and enhance the quality of life and character of the West Central.
HOW DOES THIS PLAN RELATE TO CSU'S PLANNING EFFORTS?
The West Central Area Plan will closely coordinate with ongoing Colorado State University planning efforts to ensure that the issues, opportunities, and needs related to CSU's growth are properly addressed. The following efforts will be incorporated in the planning process for the West Central Area Plan and Prospect Corridor Design:
CSU Master Plan: In 2012, CSU updated their Master Plan, which outlines their plans for future construction, on-campus housing, and student population growth.
CSU Parking & Transportation Master Plan: In April 2014, CSU released a Parking and Transportation Master Plan, which further details the university's needs and priorities related to transportation.
On-Campus Stadium: CSU is considering the development of an on-campus football stadium, which is currently undergoing a number of studies related to traffic, noise, lighting, and other potential impacts. The Community Design Development Advisory Committee (CDDAC) has been convened to provide input on the development of the stadium.
PAST EVENTS
PROCESS AND SCHEDULE

The West Central Area Plan will be developed over the course of 2014, with anticipated City Council adoption in 2015. Neighborhood outreach, events, and other engagement activities will occur throughout the development of the plan.
HOW CAN I GET INVOLVED?
The engagement of residents, business owners, students, employees, and other community members will be essential to the success of the plan. There will be numerous opportunities to join the conversation and share your vision for the West Central Area, including listening sessions, workshops, open houses, online surveys, and other activities. If you would like to be involved, please contact us, using the contact information below.
CONTACTS
Ted Shepard | Chief Planner | 970-221-6343 |
Amy Lewin | Transportation Planner | 970-416-2040 |
Rebecca Everette | Associate Planner | 970-416-2625 |

Si necesita ayuda con traducciòn o interpretaciòn en Español sobre el Plan de Barrios Oeste Central ("West Central Area Plan"), por favor llame a Ana Arias al 221-6264
LINKS