Hiring Process FAQs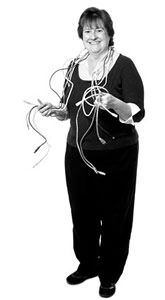 "I want to bring innovative and creative technology solutions to departments to assist them in providing world-class customer service to the community."
Michelle McDonough
Application Services Manager,
Management Information Service
Learn more about the World Class People program »
When are new positions posted?
Generally, we post vacancies at
http://www.fcgov.com/jobs
on Sunday mornings. Most jobs are also listed in the Coloradoan in the Sunday editions.
Do I have to complete a City application for each position I am interested in?
Yes, each position requires a separate application. However, your online application will be saved to the system and can be accessed by you to be updated and used to apply for additional positions.
Can I include my resume and cover letter with the application?
Yes, you can upload your resume, cover letter, or other documents you would like submit, as long as all documents are combined into one file. We accept Word, PDF, and text documents.
Can I submit an application for a position that is not currently open?
No, unfortunately the City of Fort Collins does not accept applications for jobs that are not currently open. When applying for a current vacancy, you must submit your application by the closing date.
Can I just submit a resume or application to keep on file?
No, the City of Fort Collins does not accept resumes in lieu of an application. An application is required for each open position; we do not keep applications on file for future openings. You may submit your resume with your City application (see #3.)
Can I submit a paper application?
No, the City of Fort Collins requires that all applications be submitted online.
Where can I apply if I don't have a computer?
Poudre River Public Libraries
and Larimer County Workforce at 200 W. Oak has free computer access and will assist you. Our Human Resources Department at 215 N. Mason Street in Fort Collins has a computer available as well.
How can I be sure that my application has been received?
Your account will have a history of all positions you have applied for within the last year.
How can I check on the status of my application?
How soon after I submit my application will I be contacted?
Generally, the hiring department will contact selected qualified candidates for testing or interviews once screening of applications has been completed. Screening of applications can take from two to five weeks from the closing date depending on the number of applications, departmental needs or priorities. If you are not chosen for an interview you will not be contacted. You may track the status of any opening by going to
http://www.fcgov.com/jobstatus
.
How will I know if I've been selected for an interview?
The hiring department or Human Resources will contact selected qualified candidates by phone or e-mail to schedule an interview.
I have applied for many positions and I have not received an interview. How can I improve my chances for an interview?
The following guidelines help hiring supervisors select qualified candidates:
Make sure your application is complete and accurate.
Include any work experience and/or education that meets the minimum requirements of the position as described in the position announcement.
Submit a complete cover letter and attach a resume if it provides more details on your background and experience in relation to the position for which you are applying.
Do not submit a resume in lieu of completing the employment section of the application.
Do I have to live in Fort Collins to apply for a job or work for the City of Fort Collins?
The majority of positions with the City do not require residency. Some top management positions do require that the employee live within the City limits or Urban Growth Area. If residency is a requirement, it will be stated in the position announcement.