Current Projects
Paramount Cottage Camp Rehabilitation Project
– Summer 2010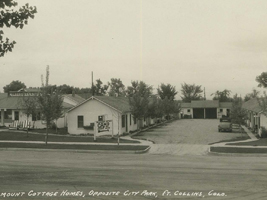 During the 1920s, tourist camps sprang up across the country providing a place for travelers to stay for the night. As Fort Collins' last remaining auto tourist cottage camp, the Paramount Cottage Camp is scheduled for restoration and rehabilitation this summer. Utilizing a State Historic Fund grant and private funding, the project will return the Paramount Cottage Camp to its historic appearance, preserve neighborhood affordable housing, give the neighborhood pride in its role in the 1920s-30s auto-touring history, and tell this important story to the Fort Collins community.
Fort Collins' Auto Toursim
Begins with a Free Campground
At the end of World War I, America was ready to satisfy a national desire to travel with the recently invented automobile. Tourist camps, courts, and cottages sprang up all over the country, providing a place for travelers to stay for the night. Fort Collins became involved with automobile touring in 1919 when the old tree nursery along the 1500 block of West Oak Street (in the City Park area) was converted into a free municipal campground. Robert W. Lampton was hired as Park Concessionaire. A community house (1923), a shower/bath house (1925), and a toilet/bath house (1928) were built for the use of campers.
Campers Want A Little Luxury, The City Adds Cabins
But some people wanted more of the comforts of home, and were willing to pay more for the added convenience. As a result, in 1927-28, the City of Fort Collins built 37 cabins in City Park.
The Paramount Cottage Camp is Built
In 1929, the cabins popularity prompted Mr. Lampton and the City to join forces and share the cost of constructing a 16-unit camp called the Paramount Cottage Camp at 1544 Oak Street, right across from the park's community house.
The 1930s Depression and 1940s World War II gas rationing curtailed vacation travel and sealed the cottage camp industry's fate. In the 1940s, the City closed the City Park campground and disposed of the cabins. Paramount Cottage Camp, by then privately owned, was remodeled in 1945, and converted into small apartments.
The black and white postcard (upper) was printed in 1930 and the lower color photograph was taken in 2009.