---
Fort Collins Museum Receives Preserve America Grant of $147,563
- March 8, 2006


The Advisory Council on Historic Preservation hosted the first Preserve America grants awards on March 8th. First Lady Laura Bush presented the awards and spoke of the benefits of the program, which encourages communities to plan for heritage tourism and the related economic benefits. The First Lady announced the awarding of $3.5 million of the $5 million allocated in the last Congress to 46 recipients. There will be a second round in August for the balance of the funds. Fort Collins received the following grant:
Soapstone Prairie Natural Area Project
Fort Collins Museum, City of Fort Collins, CO
Funded at $147,563
Funding will be used to collect oral histories from various sources surrounding the Fort Collins and Soapstone Prairie Natural Area community, and plan an exhibit to educate and inform the public on the history of the area.
---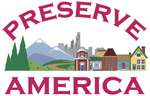 Fort Colllins Designated a Preserve America Community -
September 2005
WASHINGTON, DC---Fort Collins was honored when Mrs. Laura Bush designated it among the Nation's newest Preserve America communities.
"Preserve America communities demonstrate they are committed to preserving America's heritage while ensuring a future filled with opportunities for learning and enjoyment." Mrs. Bush said. "This new community designation program, combined with Federal support, provides strong incentives for continued preservation of our cultural and natural heritage resources. I commend you for your commitment to preserving an important part of our Nation's historic past for visitors, neighbors, and, most importantly, for children."
Joe Frank, Director of the Advance Planning Department, received a certificate of designation signed by Mrs. Bush making Fort Collins a Preserve America Community. The Preserve America initiative is a new White House effort to encourage and support community efforts for the preservation and enjoyment of America's priceless cultural and natural heritage. The goals of the initiative include: a greater shared knowledge about the Nation's past; strengthened regional identities and local pride; increased local participation in preserving the country's cultural and natural heritage assets; and, support for the economic vitality of our communities.
Benefits of this national honor include Preserve America signs which have been placed at five entrances to Fort Collins, and listing in a national web-based directory to showcase preservation efforts and highlight heritage tourism destinations. The Bush Administration's fiscal year 2005 budget contains a request for $10 million in grant funds for which Fort Collins will be eligible to apply.
"You are pioneers in this initiative, which shows just how proud the people of Fort Collins are of their city, State and their place in our Nation's history," Secretary of the Interior Gale Norton said. "Each community's unique and diverse stories are part of the larger chapter of American heritage, culture and values. It is by visiting and experiencing these special places that we have an opportunity to touch the past, and can best understand how the past touches us."
The Department of the Interior partners with the Advisory Council on Historic Preservation to administer the Preserve America Community program on behalf of the Office of the First Lady.
For more information and updates on the initiative, please
visit the Preserve America website
.
---
| | |
| --- | --- |
| Title | Specs |
| List of Honorees | 1-page color table |
| Criteria Displays | 5-page color document |
City Celebrates Preserve America Community Designation with Public Reception
-
February 2005


This prestigious national honor required communities to meet 5 of 10 historic preservation criteria. At this reception, Mayor Ray Martinez spoke and honored the over 40 partner organizations whose preservation contributions made it possible to meet all 10 of the criteria. Carol Tunner, Preservation Planner said, "The efforts through the years of our partners empowered us to achieve this special designation from the White House; it is really a credit to all of us. As I prepared the application, I was absolutely overwhelmed to look back and total up how much we have accomplished in our community since the 1968 Landmark Ordinance."
A reception and media event was held on Tuesday, February 1, 2005 in City Hall. Light refreshments were provided by the Avery House Guild. After the reception, the Mayor announced a Proclamation.