Healthy Homes
Is the air in your home clean and healthy? Do you or your children have breathing problems like asthma? Could radon be infiltrating your indoor air? Healthy Homes wants to help you answer these questions and confront these potential problems by offering a free, comprehensive in-home assessment to evaluate your home's indoor air quality.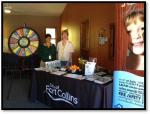 Master Home Educators are a fundamental and vital element in our Healthy Homes program. Come learn how you can help your City. Learn new skills and significantly impact the evolving health of our community. Master Home Educators will receive certification upon successful completion of the training.
See the full training schedule.
Get a Free Indoor Air Quality Assessment
Brought to you by the Environmental Services Department of the City of Fort Collins, Healthy Homes is a free program designed to help families within the City limits improve the indoor air quality in their homes.
The average American spends up to 90% of their time indoors and the indoor air quality can be up to 5 times worse than outdoors. In Fort Collins, 1 in 4 homes has a family member with respiratory ailment. The EPA has ranked indoor air pollution among the top five environmental risks to public health, so the indoor air quality of your home is very important to us!
Assessments are performed by our Master Home Educators and typically take less than an hour and a half. We work hard to find a time that works with your busy schedule, and there are absolutely no hidden costs or fees.
Included with each assessment is a free radon test kit, we'll check your home for potential mold and moisture problems, and we'll leave you with a wealth of information and resources about your indoor air quality and low cost or no cost recommendations you can implement to mitigate many of the most common problems
Click here for the Healthy Homes brochure (Download PDF)

Start making your home healthier today with the Healthy Homes recipe book!
Questions? If you can't find what you're looking for here, send us an email at , or call 970-416-2832.
Doctor knows best!
Meet Dr. Doug Whitman, from the Salud Family Health Center, and hear why he refers his patients to the Healthy Homes Program. Watch Video.
If you know of anyone who could benefit from a home health assessment, have them sign-up today at 970-416-2832/
You are at the highest exposure to radon when your doors and windows are all closed up during winter. Winter months are the perfect time to test for radon – the leading cause of non-smoker lung cancer in the United States.
The Healthy Homes program offers free, home health assessments to Fort Collins residents that evaluate your home's indoor air quality, including a free radon test kit.
The City also sells radon testing kits year-round at the Senior Center, 1200 Raintree Drive, and the Development Review Center, 281 N. College Ave. Short-term kits are $6; long-term kits are $20.
Visit fcgov.com/radon for instructional tools on how to test for radon and a list of certified radon mitigators.
The City of Fort Collins is offering zero interest loans for home improvement projects that remove mold, radon and wood smoke from inside your home. Residents can apply for a loan to install a radon mitigation system, replace or upgrade a fireplace or wood stove, or remove mold and moisture from the home. Loan amounts range from $1,000 to $10,000 depending on the type of project.
's Community CheckUp Host Kim Sharpe interviews Program Coordinator Mary Pat Aardup about the City of Fort Collins Healthy Homes program. Learn how you can become a Master Home Educator by participating in the 2016 April Healthy Homes Master Home Educator Training as well as simple ways to make your home healthier. For more information, call 970-416-2832.