Junior Golf Program: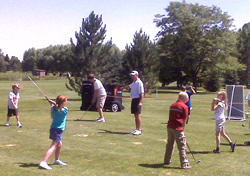 Junior Golf Lessons are designed to introduce and promote the game of golf to Junior golfers of all abilities. Our goal is to provide a fun and enjoyable learning environment that will stimulate interest in the game. Juniors will learn the importance of rules and etiquette, as well as the basics of the golf swing and the game. All areas of the game are taught, including putting, chipping, irons and woods.
Remember, when deciding whether or not to take Junior Golf Lessons...
Make sure the child wants to do it, not just the parents.
Don't send kids out too young. Make sure the child can hold a golf club securely and won't lose balance when they swing.
Make sure that the instructor makes it fun.
Make sure that any series of lessons provides instruction to all phases of the game.
The size, strength, and age of a player doesn't matter.
Don't expect too much too soon.
More Information (by Course):
City Park Nine Junior Program
Girls Camp
Join us July 27 through July 31 for a Girls Only Junior Golf Camp! The cost is $65 per girl, ages 7 to 12. Learn etiquette, rules, pulling, chipping, pitching and more!
For more information, call 970.221.6650, or click here.
Junior Golf Camp
Sign up for our Junior Golf Camp today!
(PDF 71KB)
Lessons
Junior Golf Lessons begin in early June for Girls and Boys ages 5-9 and 10-17. Lessons are a fun and informative way to learn and review golf and they cover etiquette, putting, chipping, and the full swing with both irons and woods.
Events
Programs
Junior Travel Team representing City Park Nine plays competitive golf against other golf courses, with weekly qualifying to make the team.
Collindale Junior Program

The Collindale Golf Academy is proud to host a wide variety of programs for our Junior golfers. We provide an opportunity, designed for kids, ages 5 to 17 to experience the great game of golf in a fun and safe atmosphere.
Our Junior programs range from 2 hours (two sessions per week) to 10 hours (Monday - Friday, 2 hours a day). All programs are held under the direction of PGA Golf Professionals who teach full time, ensuring that your child will receive the best instruction available. Students will be grouped by age and specific skill level. Our programs will allow each student to learn at their own pace and develop the skills necessary to become an accomplished golfer.
Learn more:
Southridge Junior Program
Lessons
Junior Golf Lessons begin in early-June for Girls and Boys ages 5-17 with weeklong clinics for a minimum of three weeks. More clinics are added if those are filled.
SouthRidge discounts Golf Lessons to Juniors 25% to 50% depending on whether private, semi-private, or group lessons. SouthRidge also discounts volume range keys 25% for Juniors and provides free loaner clubs if needed.
Programs
Junior Travel Team representing SouthRidge plays competitive golf on the Northern Colorado Junior Golf Tour (NCJGT) against teams from other golf courses, with weekly qualifying to make the team. The NCJGT is being co-ordinated by SouthRidge Staff.
SouthRidge has a separate Junior bulletin board, and a special Junior Section with Junior merchandise such as clubs, bags, hats, shirts, shoes, gloves, etc.
Learn more:
In Addition:
The City of Fort Collins conducts an Annual City Junior Golf Tournament in late July or early August using all three City Golf Courses for this competitive event.
The Poudre School District Girls and Boys High School Golf Teams, and the Junior High School Club Teams, practice and play their tournaments/matches at all three City of Fort Collins Golf Courses.
The Colorado State University Women's and Men's Golf Teams historically practiced and played golf at our City Golf Courses.