Golf Administration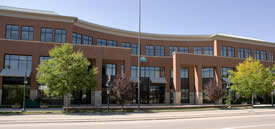 The City of Fort Collins Golf Division, which is part of the
Parks Department
, is responsible for the total management, operations, and maintenance of
City Park Nine
,
Collindale
, and
SouthRidge
Golf Courses. The Golf Division fully operates within the Golf Fund, is 100% self-supporting and receives no tax dollars.
Physical Address:
215 N. Mason, 3rd Floor, Fort Collins, CO 80522
Mailing Address:
P.O. Box 580, Fort Collins, CO 80522-0580
Fax:
970.221.6586
---
Vision:
The City of Fort Collins Golf Division will be recognized as leaders in providing outstanding golf experiences that exceed expectations and encourage repeat play.
Mission:
To provide high quality personal services and excellent value to the golfing public by delivering superior amenities and playing surfaces with exemplary environmental stewardship through innovative practices.
Objectives:
Create a culture of sustainability
Ensure fiscal responsibility and independency
Foster innovation and creativity in the workplace
Achieve world class outcomes
Continuously improve customer service
Administration Staff
J.R. Schnelzer, Director of Parks
Ph: 970.221.6301, Email:
Dawna Gorkowski, Parks Finance Supervisor
Ph: 970.221.6304, Email:
Dawn Worth, Golf Administrative Assistant
Ph: 970.416.2265, Email: