Spring & Summer Hand Tree Watering Schedule (April-September)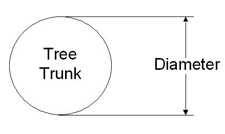 These hand tree watering recommendations (developed by the Community Tree Alliance) apply in situations with no general landscape watering (restrictions that prohibit turf watering). Water small trees - 4 times per month, medium trees - 3 times per month and large trees - 2 times per month.
Utilize the following "rule of thumb" for watering the appropriate classification of tree: small trees (1"-3" diameter) 10 gallons per inch, medium trees (4"-8" diameter) 10 gallons per inch, large trees (10"+ diameter) 15 gallons per inch. Use a ruler to measure your tree's diameter.
Soaker Hose

2 gallons per minute
(50 ft. with restrictor)
Small Trees
Weekly
(10 gallons per inch)
Medium Trees
3 x per month
(10 gallons per inch)
Large Trees
2 x per month
(15 gallons per inch)
1"
2"
3"
4"
6"
8"
10"
12"
14"+
5
10
15
20
30
40
75
90
105
Minutes
---
Deep Root Fork

2 gallons per minute
Small Trees
Weekly
(10 gallons per inch)
Medium Trees
3 x per month
(10 gallons per inch)
Large Trees
2 x per month
(15 gallons per inch)
1"
2"
3"
4"
6"
8"
10"
12"
14"+
5
10
15
20
30
40
75
90
105
Minutes
---
Deep Root Needle

2 gallons per minute
Small Trees
Weekly
(10 gallons per inch)
Medium Trees
3 x per month
(10 gallons per inch)
Large Trees
2 x per month
(15 gallons per inch)
1"
2"
3"
4"
6"
8"
10"
12"
14"+
5
10
15
20
30
40
75
90
105
Minutes
---
Soft Spray Wand

4 gallons per minute
Small Trees
Weekly
(10 gallons per inch)
Medium Trees
3 x per month
(10 gallons per inch)
Large Trees
2 x per month
(15 gallons per inch)
1"
2"
3"
4"
6"
8"
10"
12"
14"+
3
5
8
10
15
20
38
45
53
Minutes