Fort Collins, Colorado - Where renewal is a way of life.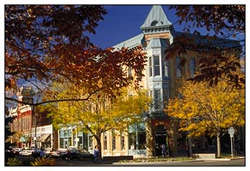 Overview
Fort Collins was founded as a military fort in 1864 and incorporated as a town in 1873.
Fort Collins is a home rule city with a Council/Manager form of government. The Council is made up of six district council members who are elected on a non-partisan basis for a four-year term and a Mayor who is elected at-large on a non-partisan basis for a two-year term.
This rapidly urbanizing community operates under a sophisticated and comprehensive development plan and is a full-service city.
Fort Collins is home to Colorado State University and an outstanding public school system.
Fort Collins continues to reinvest in community improvements. Recent voter-approved capital improvement initiatives have enabled the City to build Gateway Park, Edora Skate Park, the new City office building at 215 N. Mason, the Downtown Transit Center and the Civic Center Parking Structure. Funds were also used for numerous street improvements, to provide a second sheet of ice for Edora Pool and Ice Center and to construct a new Community Horticulture Center.