click to enlarge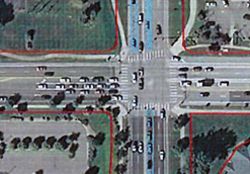 Horsetooth and Timberline Intersection Improvement
Project GOALS
In 2011, City Engineering completed an Arterial Intersection Prioritization Study which listed the intersection of Horsetooth and Timberline Roads as the top-ranked location for needed safety and operational improvements. The reasons for the poor ranking include: higher than average vehicle accident rates, significant congestion, and intersection delay for all transportation types. With this project, our goals are to:
improve safety and overall efficiency for vehicles, bicycles and pedestrians,
reduce the accident rate by modifying the horizontal geometry of the intersection,
improve air quality by reducing vehicle wait times, and
include multi-modal facility improvements to create a safer and more efficient intersection for all users.
Proposed Improvements (conceptual design)
The Arterial Intersection Prioritization Study identified two major components for addressing the delay and congestion issues. The first option will add a second, dedicated left turn lane from northbound Timberline Road to westbound Horsetooth Road and from southbound Timberline Road to eastbound Horsetooth Road. The second option will add a dedicated right turn lane from southbound Timberline Road to westbound Horsetooth Road. Both options will require curb line, sidewalk and parkway reconstruction. The existing raised medians on the east, south and north legs will be reconstructed to align with the proposed lane lines. Additionally, the conceptual design provides for a new eastbound bike lane on Horsetooth as the roadway approaches Timberline.
The City will combine all three turn lanes into one design project and is currently looking for the necessary funding to build all three at the same time. By completing the three new turn lanes, the peak hour delay will be reduced by 12% in the morning and 18% in the evening.
Funding
The City secured a federal grant in the category of Congestion Mitigation and Air Quality (CMAQ) improvements to cover 80% of the design and construction costs for the southbound right turn lane. The matching money for the right turn lane, and the money for the two left turn lanes, will be funded through the Building on Basics (BOB) Intersection Funds from the voter approved quarter-cent sales tax.
Schedule
Preliminary Design

March-July 2013

Final Design

August 2013-February 2014

Right-of-way Acquisition Phase

August 2013-May 2014

Construction

Summer/Fall 2014 (dependent on right-of-way )
Public Outreach
A detailed communication plan will be developed and implemented with the preliminary design phase through construction. The communication plan will highlight milestone dates, news releases, social media and specific outreach methods for residents and the travelling public. Check back here often for exact construction dates. Additionally, the project construction information will be available on our interactive trip planner, FC Trip.
Contact
Tim Kemp | Capital Projects Engineer | 970-416-2719 |