click to enlarge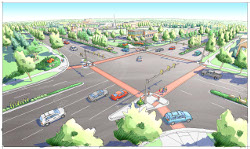 Horsetooth and Timberline Intersection Improvement
Project GOALS
In 2011, City Engineering completed an Arterial Intersection Prioritization Study which listed the intersection of Horsetooth and Timberline Roads as the top-ranked location for needed safety and operational improvements. The reasons for the poor ranking include: higher than average vehicle accident rates, significant congestion, and intersection delay for all transportation types. With this project, our goals are to:
improve safety and overall efficiency for vehicles, bicycles and pedestrians
reduce the accident rate by adding four new turn lanes
improve air quality by reducing vehicle wait times
include multi-modal facility improvements to create a safer and more efficient intersection for all users
ONLINE SLIDESHOW
Not only is the Horsetooth and Timberline intersection being improved for vehicles and bikes, it will also be enhanced with Art in Public Places streetscaping and landscaping.
Slideshow
Funding
A majority of the funding will come from the voter approved Building on Basics (BOB) quarter-cent sales tax. Additionally, the City secured a federal grant to pay for the construction of one of the turn lanes.
Project Map
Coming soon!
Construction Timeline
click to enlarge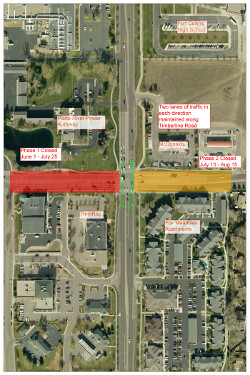 Mid – May Remove existing sidewalks and grass on far lanes, relocate and lower existing utilities Impact: Lane shifts and closures
June – Aug Pavement removal, new base, concrete for sidewalks and curbs, new turn lanes on Horsetooth, outside lane construction on Timberline Impact: Closures of eastbound and westbound Horsetooth, Timberline remains open with 4 lanes of traffic
June 1 – July 25 West leg of Horsetooth closed
July 13 – August 15 East leg of Horsetooth closed
Sept – Oct New signals, new pavement, signing and striping, final streetscaping and median landscaping Impact: Lane shifts and closures
Contact
Questions? Contact the City of Fort Collins Engineering Project Manager:
Dan Woodward, Civil Enginner I | 970-416-4203 |