Available Rental Facilities & Spaces
Are you looking for a place to hold your next event? The City of Fort Collins offers lots of great spaces that are available to rent for events, meetings, parties and much more!
Since the 1920's Club Tico has served as one of Fort Collins' most unique and beautiful locations for special events and celebrations. Club Tico has been recently renovated and now features climate control and newly finished floors. The facility is located within historic City Park near downtown Fort Collins and offers convenient access and parking. Club Tico offers your next special event a classic environment with modern amenities.
The Gardens on Spring Creek provide a naturally beautiful, relaxing, and comfortable setting perfect for meetings, retreats, weddings, birthday parties, and other types of special events. The Gardens was first envisioned in 1986 and then in 1997 funds were finally put aside to start building The Gardens. The first Garden was open to the public in 2006. The Gardens present a unique and memorable location to host your next event.
Newly renovated in 2011, Fort Collins Lincoln Center is Northern Colorado's premier venue for corporate, private and special events. With our experienced staff, reasonable rates and convenient location, Lincoln Center is the perfect option for a wide range of events. Boasting eight rental facilities, including two lovely outdoor spaces, two conference rooms and two theatres, Fort Collins Lincoln Center is extraordinary and in the heart of it all!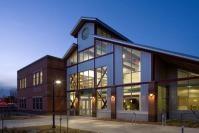 The Northside Aztlan Community Center is conveniently located near Downtown Fort Collins. The "new" Northside Aztlan Community Center opened to the public in 2007 and has quickly become a favorite location for large and small scale events. The facility has been the site of hundreds of events since it's grand reopening. The facility is equipped with modular rooms, a three-court gymnasium, game room, lounge, audio-visual resources, a catering kitchen and Wi-Fi.
Primrose Studio at Reservoir Ridge
In 2001, the late Rob and Dorothy Udall, advocates for conservation, donated Primrose Studio to the Fort Collins Natural Areas Department. The land and studio are now part of Reservoir Ridge Natural Area. The studio's unique design is inspired by the spectacular setting and Dorothy Udall's art, some of which is displayed at Primrose Studio. Primrose Studio provides a quiet meeting facility in a beautiful setting in northwest Fort Collins. It's perfect for small classes, trainings and retreats.
The Fort Collins Senior Center is the ideal location for your next special event or activity. The Senior Center is conveniently located in southwest Fort Collins and is perfect for small intimate meetings or large scale events up to 300 people. The Senior Center offers modular rooms to fit any size activity, incredible views, excellent customer service and a beautifully landscaped courtyard. The Senior Center is a full service facility that is affordable, attractive and convenient.