2015 Community Progress Report
Fort Collins is a community that has already made significant progress in reducing greenhouse gas emissions. Our aspirational goal to be carbon neutral by 2050 is being lauded by our municipal counterparts around the globe.
2015 Municipal Government Progress Report
The City of Fort Collins as an organization has had a long history of promoting sustainability through a variety of innovative programs and policies to lead by example. This annual report examines the City's energy use, fuel mix, energy efficiency, and other municipal goals to achieve transformational progress.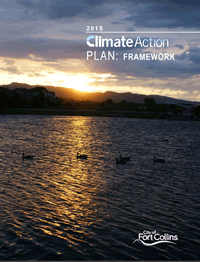 2015 Climate Action Plan: Framework
The 2015 Climate Action Plan Framework details the City of Fort Collins strategies to achieving our 2020, 2030, and 2050 Climate Action Plan goals.