NOTICE:
This newsletter was originally sent on Nov 10, 2009.
November's Bike Lunch Talk
(rescheduled to 11/17)

~
The November Bike Lunch Talk has been rescheduled from Wednesday 11/11 to Tuesday 11/17 due to Veterans Day. Join us for a brown bag lunch and learn about the City's recent study regarding bicycle accident data. The City's Traffic Engineer, Joe Olson, will present his findings and share valuable information regarding bicycle/motorist accidents. This information may surprise you!
Location: Home State Bank (303 E. Mountain) in the basement.
Time: 12:00pm - 1:00pm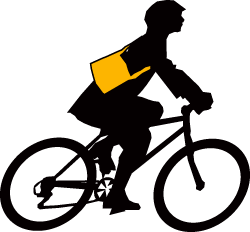 To Unsubscribe to Momentum E-News - please reply to this e-news letter or send an e-mail to
FC Bikes