FC Bicycle Library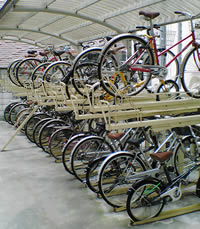 Welcome to FC Bike Library located in the heart of Old Town Fort Collins at the Café Bicyclette (970.419.1050)
The FC Bike Library is a free service for residents, students, and visitors to Fort Collins. We have a variety of self guided tours ranging from brewery tours to historic tours, and an environmental learning tour along the scenic Cache La Poudre River Bike Trail. Self guided brochures are available at each Library stations. To borrow a bike from the FC Bike Library, members sign a one time waiver and the member's information is quickly entered into the FC Bike Library database. Parents must sign a parental consent for each child under 18 years of age. Parents have the option of letting a child check out a bike without a parent present 14 years of age and older. FC Bike Library members have the option of borrowing a variety of bicycles, bike trailers for children and cargo, as well as tandems, and tag-a-longs for older children. Members can borrow the bike for as short as an hour or for as long as five days.
To become a member of the library all you need is a valid form of identification, for example, a D.L., green card, State ID, or passport. A credit or check card (Visa/MC) is also necessary for deposit although no charges are made to the card unless the bicycle or accompanied accessories are not returned or are damaged (helmet, trailers, tag-a-longs, locks, or lights). All credit card information is secure.
The FC Bike Library is a free service made possible by FC Bikes (City's Bike Program), and Bike Fort Collins.