East Drake Reclamation Plant
"East Drake Pondworks"
By Lynne Hull
2006
3036 Environmental Drive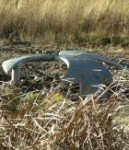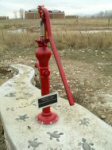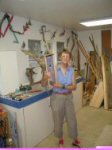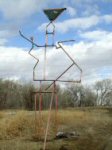 Various sculptural elements located at the East Drake Pondworks Project.
Artist Lynne Hull shares a sculptural element.
Artist Lynne Hull's interest in wildlife habitat restoration, combined with the diversity of wildlife reported at the project site generated ideas for several small wildlife habitat sculptures and more. The site includes an
Entrance Archway,
wildlife
Observation Screen, Viewing Pipes,
sculptural
Bird Island, Picnic Area, Grandmother Tree, Kingfisher Tower, Water Sluice, Bat House, Duck
and
Bird Houses
and
Toad Tunnels. View Pipes
will point out water sources in the landscape located near the Poudre Trail.
Water Sluice
is a hand-powered water pump to fill various basins for various non-human species.
Bat House
is a large structure made of copper pipes supporting a wooden bat shelter.
Grandmother Tree,
made of tree snags, will provide cavities and roosting areas for birds.
Bird Island
offers a safety zone for insects, birds, reptiles, and amphibians to rest or bask in the sun. Come and enjoy the variety of elements at this site.
Artist Statement

"Since my artwork is focused on wildlife habitat restoration, I am delighted to work on some wetland mitigation ponds as an APP project. The size and scope of this project are a challenge and inspiration. I am exploring new and more lasting materials, such as metal, concrete, and stone, in ways I have not done previously. I am working at combining natural materials with (partly recycled) materials used in our water infrastructure, as well learning ancient sustainable "cob" and "wattle and daub" construction techniques for a "wildlife viewing blind". The underlying theme of the project is "we all need clean water" - the "we" including other species beyond human. Some structures point out or interpret water sources, needs and responsibilities, while others offer sharing of space with species found at or traveling through the site. Many of these species are aquatic, others are interwoven in their web of life."