Unfortunately, the Advance Planning Department underwent some significant budget cuts (both staff and dollars) in 2011 and 2012, and one of the activities we were forced to "stop doing" was the Plan Van Tours. We really thought they provided a lot of value, but given other higher priority tasks, the Plan Van tours were terminated. City staff might look for Council funding in 2013/2014, when those budgets get prepared.
Plan Van
From where you live to how you get to work, your decisions are all influenced by planning. Many citizens do not realize the impact planning has on their daily lives. The tours highlight various projects including recent urban design winners, 1950s neighborhoods, Mountain Vista Subarea, ghost signs, South College Corridor Plan, and the evolution of neighborhood planning. This is an opportunity to recognize how planning shapes Fort Collins, and the work of planners and the planning profession in creating communities of lasting value. The City of Fort Collins encourages you to take advantage of this terrific look at planning and take one of the self-guided tours below.
What is Planning?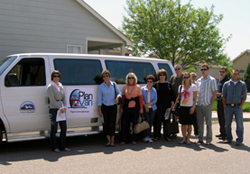 The Plan Van in action on May 30, 2008.
Planning is the process of envisioning, mapping or otherwise conceiving how a community will look, grow, and define itself—its characteristics, attributes, and identity. As our communities continue to change and grow, planners play an important role in ensuring that new developments are designed and built in harmony with existing surroundings. Planners must carefully balance the needs and desires of residents against the challenges presented by growth and change not just in the physical realm, but also economically and socially.
Planning also strives to give residents choices. From the type of home an individual lives in, such as a condominium, apartment, town home or single family, to how an individual gets around, whether taking mass transit, walking, bicycling or driving, planning helps ensure communities address the needs of everyone. The Plan Van recently received a 2008 Colorado American Planners Association award for community engagement.
From Housing to A Helping Hand: How Public Money Makes Fort Collins Better!
From the Front Porch to the Stars: How Neighborhood Planning Has Evolved
Adding South College to the Mix: The South College Corridor Plan
You Look Marvelous: Fort Collins Design Winners