Features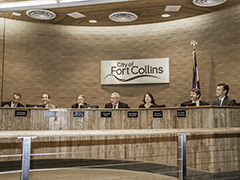 The next City Council meeting will include second readings on various fund appropriations for Safe Routes to School, the DDA, Willow Street improvements, and others.

City Council on Tuesday will consider postponing second reading of the proposed disposable bags ordinance to August 19.

Watch for artists painting in Old Town Square as Pianos About Town begins its fourth season and celebrates Fort Collins' 150th birthday.
News
Fri, 07-11-2014 | Utilities
Thu, 07-10-2014 | Environmental Services
Tue, 07-08-2014 | Recreation
Mon, 07-07-2014 | Police Services
Mon, 07-07-2014 | Police Services
Sun, 07-06-2014 | Police Services
Sun, 07-06-2014 | Police Services
Thu, 07-03-2014 | Recreation
Wed, 07-02-2014 | Streets
Wed, 07-02-2014 | Lincoln Center
Fri, 06-20-2014 | Police Services
Thu, 06-26-2014 | Police Services
Thu, 06-19-2014 | Police Services
Sun, 06-15-2014 | Recreation
Mon, 06-16-2014 | Utilities
Wed, 06-18-2014 | Natural Areas
Fri, 06-27-2014 | Recreation
Tue, 06-24-2014 | Recreation
Fri, 06-20-2014 | Utilities
Wed, 06-25-2014 | Environmental Services