Features

Have you been delayed by train traffic along Riverside? Share your experience with this brief survey.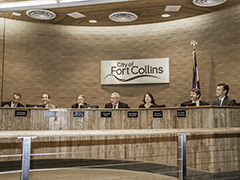 Topics include: Council Retreat Priorities, Lincoln Corridor Appropriation, possible Land Use Code amendments regarding the Addition of Permitted Use process, change to the City project appeal process

Natural Areas is working on innovative river restoration projects. This brief video reveals the case for river restoration through real photos, time-lapse photography, and video animation.
News
Mon, 07-06-2015 | Public Information
Sat, 07-04-2015 | Recreation
Thu, 07-02-2015 | Public Information
Thu, 07-02-2015 | Public Information
Thu, 07-02-2015 | Engineering
Thu, 07-02-2015 | Transfort
Wed, 07-01-2015 | Engineering
Wed, 07-01-2015 | Utilities
Wed, 07-01-2015 | Utilities
Mon, 06-29-2015 | Transfort
Wed, 06-10-2015 | Police Services
Wed, 06-10-2015 | Public Information
Fri, 06-19-2015 | Police Services
Mon, 06-08-2015 | Streets
Wed, 06-17-2015 | Police Services
Tue, 06-09-2015 | Natural Areas
Tue, 06-09-2015 | Utilities
Thu, 06-11-2015 | Recreation
Thu, 06-18-2015 | Public Information
Wed, 06-10-2015 | Horticulture